Everest Basecamp Trek in Nepal News Blog
Everest Basecamp Trek in Nepal News Blog
Our team is now trekking to Everest Base Camp. So far we have only seen one other group with three members. The weather has been sunny during the day and cool at night. Following in the footsteps of Sir Edmund Hillary and Sherpa Tenzing Norgay, we are treking the terraced green villages along the Khumbu River Valley up to the massive Khumbu Glacier. We are excited to step foot onto the world's most famous base camp at Everest. Click Here for information about our upcoming Everest Basecamp Trek Nepal in Jan, Feb, March, April, and November.
---
Blog posts: Please scroll down for day by day news and photos of our trek.
---
View from Pangboche. Himalayas view from Dingboche.
Steve at Tangboche. Hiking towards to Pangboche.
Tangboche gate. View form Tea house.
Beautifull view of Everest, Lhotse Shar, AmaDablam from Pangboche.
Today's rest day.
Ice Training at Chukung.
Ice Training at Chukung. We reach Chukung.
Nice and beautiful walk.
Steve Walls Photos
Steve Walls Photos
Gyorgy Puszta Photos.
Gyorgy Puszta Photos.
Gyorgy Puszta Photos.
Everest View Hotel
Stunning video of Himalayas of Khumbu valley.

Everest, Lhotse shar and Amadablam in backround.
Stunning Mountain Scenery, from Namche Bazaar, Nepal
Namche Bazaar, capital of Sherpa Village. Photo Steve W.
Empty trail of Khumbu Valley. Namche Bazaar.
Selfee György . Empty Khumbu Valley.
Ang Dorjee at one of the suspension bridge. Mount Thamserku. Photo by Steve W
Steve at Jorsalle, Everest National Park. Photo Ang Dorjee.
25 Dec - Team arrived at Lukla safely. Best Wishes For A Very Happy Christmas From Summit Climb!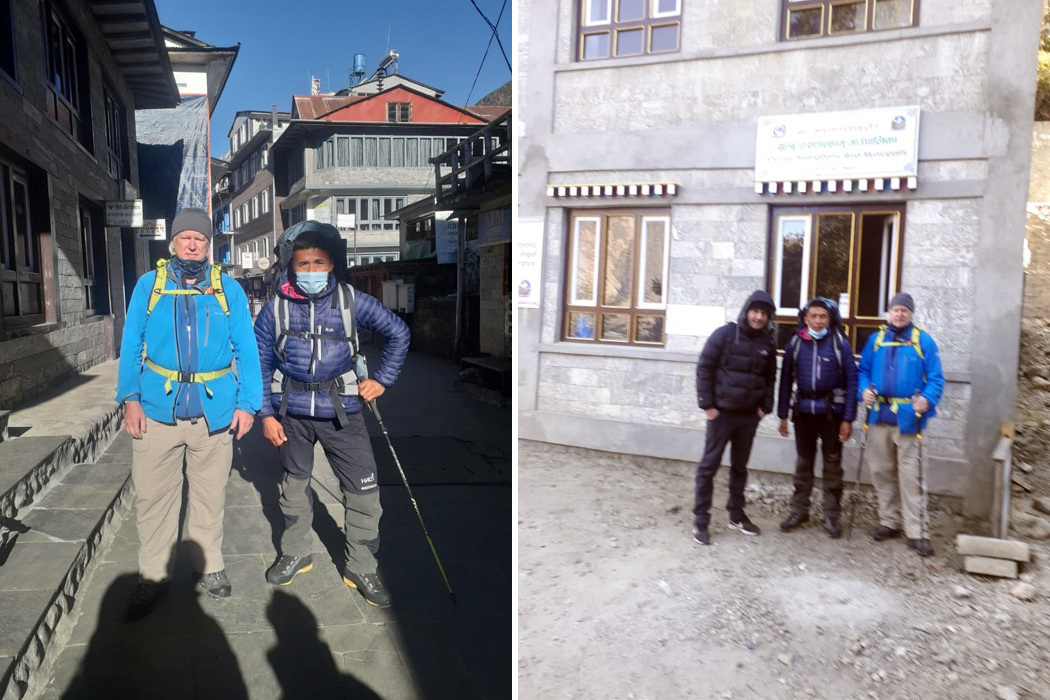 Members and Sherpa at Lukla
Lukla Airport. Member at Lukla.
Domestic Airport
---
Team Roster:
György P. , Hungary
Steven W. , USA
Tenji Sherpa
Ang Dorjee Sherpa
---
---
Greetings to all Everest Base Camp Lovers! Our team of men and women of all ages have just returned from basecamp. Everyone made it to Everest Basecamp and Kala Pattar. Congratulations!!!
---
Team member comments:

It was a really exciting trek this year, as the weather was perfect every day. Our strong Sherpa team helped everyone to persevere and the group all succeeded in achieving their goal of reaching basecamp, bolstered by lots of hot tea, delicious food, and warm comfortable lodges all along the way. We welcome them back to sunny warm Kathmandu and Thanks to Everyone for Visiting Nepal!!!
Thank you so much for all of your very kind care. You planned so well and thought of every detail to help keep us comfortable and ensure a successful climb to basecamp. We loved stopping at the monasteries and learning about them. You really have made it possible to reach a goal that for many is just a dream. Personally that will change my life. Thank you for being a big part of making that dream come true in such a positive way. Blessings Babbi
---
Blog posts: Scroll down for day by day news of our climbing and trekking teams from previous season.
---
Everest basecamp trek group are at the Kalapather. Everest Basecamp trek group at Basecamp Camp.
Everest basecamp trek group at Dugla. Trekker at Player wheel.


Mount Everest seen from Namche Hill. Night at Summitclimb Everest basecamp. Photo courtesy of www.Johnalexander.co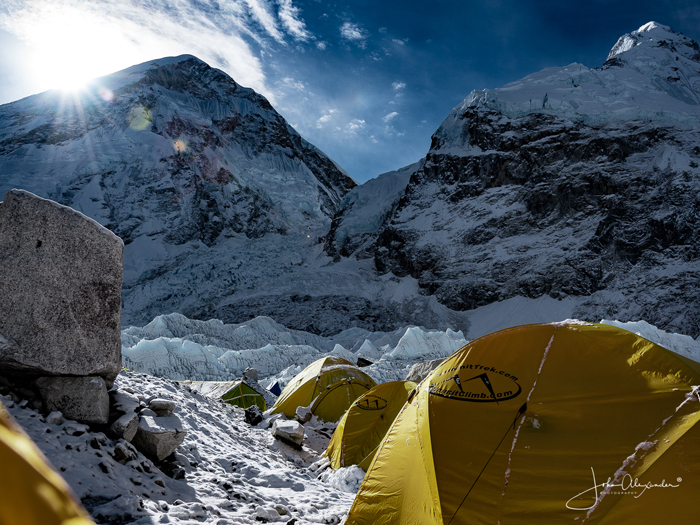 Everest, lhotse and Nuptse seen from Pumori ABC. Everest Basecamp. Photo courtesy of www.Johnalexander.co
You have been so incredibly amazing. I am forever grateful to you for the experience you gave us and the knowledge that you shared. I will never forget this experience. Thank you !!! Tia

I strongly believe that we got the best, smartest, kindest guide on the entire mountain. I appreciate your gentle nature and your willingness to answer questions that we had. I will never forget the experience. Thanks again Rosey


Enjoying the day at Sangboche. everest basecamp trekker hiking toward basecamp. Photo courtesy of www.Johnalexander.co
Thank you for being an amazing guide and showing us the best places. You kept me fed really well and I enjoyed all of the meals. We had some great laughs and moments that I will cherish for the rest of my life. Nate


Everest Climber posing for photo during trek background Amadablam. Hiking at Dingboche. Photo courtesy of www.Johnalexander.co
What a great trip we had thanks to you and your team. I can't thank you enough. You and your team were always concerned about our safety, well-being and comfort. It seems that you always put us first. Also thanks for teaching us so many amazing new things. I appreciate the hotels you chose and all of the good food and tea! Brent


Hiking during Pumori BC. Hiking toward to Sangboche for Everest View. Photo courtesy of www.Johnalexander.co




Hiking toward to Tangboche. One of the many suspension bridge while everest basecamp trek. Photo courtesy of www.Johnalexander.co




One of the many suspension bridge. Player flag. Photo courtesy of www.Johnalexander.co




relaxing while trekking. Stupa while Everest Trek. Photo courtesy of www.Johnalexander.co




Team member at Namche. Yak at Everest Basecamp. Photo courtesy of Johnalexander.co