Adventure Beckons! Everest, K2, Training Climbs and Treks
Adventure Beckons! Everest, K2, Training Climbs and Treks


Karakoram Climbs, Treks & Training June, July, August

A Few Spots Available for April-May in Nepal - Call Now

Tibet/Nepal Climbs & Treks - September-December

Secure a Place on our Team
How is 2018 treating you? I hope with the changing season your are thinking of the world famous goal you wish to tackle. The time is now to secure your spot on our teams and experience the higher ranges of Asia.

My name is Dan Mazur and am flying out in a few days to lead our Everest Nepal trips on April 1st before going to Pakistan in June for our exciting K2-Broad Peak programme. Welcome to our team! The trip of a lifetime awaits you in the Karakoram, Nepal, and Tibet this year. Whether you wish to climb, trek, or top out one of the world's 14 highest peaks, the time to commit is now.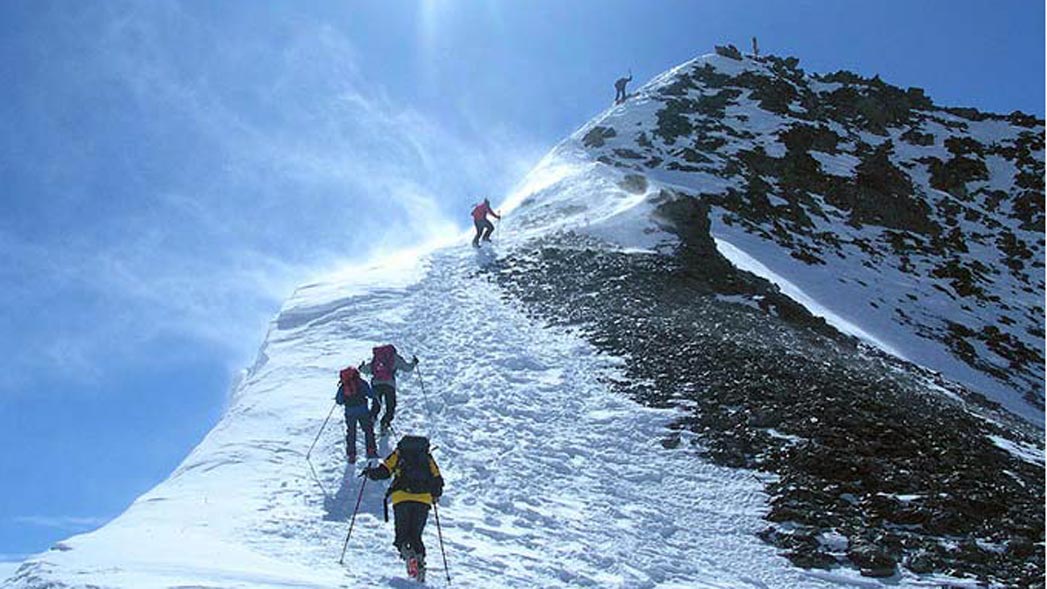 Ascending K2 in the Karakorum, the ultimate high! Test yourself on a mountaineer's dream peak. Summit and training climb available.
Take the road less travelled to the Karakoram: Not nearly as crowded as the Everest region with unmatched scenery and landscapes that few experience.

Visa Deadline Extended to April 15th

- We need to know now! Will you be joining us in June-August for a K2 climb or trek, K2/Everest Training Climb, Broad Peak, and Pastore Peak? Two weeks left to sign up before permits are due!


Final Call

for April-May Himalayan Trips: A couple spaces are still available on the following trips: Everest Summit from Nepal South and Lhotse. 22 April start date: Everest Training Climb, Basecamp Trek, and Glacier School (Lobuche East - trekking peak), or rarely visited remote Nepal Service Trek. We have 1 week left to add you on to our permits!

Himalaya Climbs & Treks - September-December: Nepal and Tibet will be wide open with summit climbs of Manaslu, Cho Oyu, Shishapangma, Ama Dablam, Baruntse, Basecamp and Service Treks, Glacier Schools, and Trekking Peaks (Mera Peak, Lobuche East and Island Peak).

Winter Wonderland: Christmas treks to Everest Basecamp & Island Peak summits, as well as summit climbs of Aconcagua, one of the world's famous 7 summits during December-February.

Recruitment Bonus: Tell Your Friends and Earn

Cash

for every member you refer.

Check out our Pre-Trip Newsletter. Contact us immediately to sign up and get on the permit!

Can't swing it this year? Trips are already filling up for 2019. It's never too early to send in deposit and application to secure your spot on the team. Reality is what you chose it to be, so live a little.


Crossing ladders in the Khumbu Icefall along our Everest Nepal summit climb. Lhotse in the background. Last minute call to join these trips, as we have a space available on each expedition! We have two Everest 7000m training climbs in April and May.
Read down for important information about our upcoming trips. All groups are led by Western leaders from the UK and Europe with top-notch Everest Sherpas excellent equipment and good food. Teams are made up of friendly men and women of all ages and abilities.

Experience the true freedom of the hills in the Karakorum this June to August with us. Amazing uncrowded climbing and trekking.


It isn't as complicated as you might think to reach your desired goal. We help you every step of the way. All you need is the following:
Plane ticket (they are still affordable and available, let us know if you need help);

Personal equipment (we check and help you purchase or rent all of your gear affordably);

Completed Payment - Use Your Credit Card to pay for your trip - no credit card fee.

Trip Registration form with 1 Passport sized photo and scan of your passport;

Travel, accident, and repatriation insurance (glad to make suggestions for you).


Climber on Broad Peak with mountains abounding around. Join leader Dan Mazur on the easiest 8K metre peak this June.
Last Chance to Join April-May trips in Nepal and Tibet!
A Few Spaces Still Available - Sign Up Now

Training above Everest Basecamp. Expert friendly leaders review skills and teach you everything you need to know.

Karakoram Expeditions, Treks, Trekking Peaks & Training

Join Leader Dan Mazur in June - July - August

Permit Deadline Extended to April 15th!



Walking into Askole Village, first stop along the way to K2 Basecamp. Leader Dan Mazur and professional climbing Sherpas were here in 2017 and welcomed with open arms by the locals community. They want us to come back for adventure in 2018.
September-October-November Tibet / Nepal

Big, Medium, & Small Peaks, Treks, & Training Climbs

Friends: Seize The Moment!
Ascending Ama Dablam in Nepal, Asia's most famous ice, rock, and snow peak, Moderately technical yet attainable.

Our trusty yaks taking supplies up the Khumbu Valley. Everest in the background. The famous Hillary Step on Everest Nepal. This is the last hurdle before being on top of the world. Patale health post worker Jamyang and Dr. Lisa McClellan examine a Nepalese baby. AmaDablam Camp 1 at night.
Winter Wonderland - Everest Basecamp Christmas/New Years Treks and Aconcagua Summit Climbs
Aconcagua - December, January, or February. 17 days in Argentina. Full Service: $4,350 , £3,390, € 3,650. Basic Climb: $2,850. Easy high altitude 7 Summit Peak.

CHRISTMAS AND NEW YEAR TREK TO EVEREST BASECAMP. 18 Days of glorious peaceful trekking at the turn of the year. Cost: $1850, £1,250, €1,750. Island Peak option.

Giving Back to the Himalaya & Climbing Community


Current projects include:

New dates for our free autumn glacier school




Service treks to poor villages,




Building schools and hospitals,




Waste treatment plant at Everest basecamp, won a UIAA award,




Sherpa training school, and




Rebuilding the oldest convent near Everest.
Please go to www.MountEverestFoundationNews.org
Take Advantage of our Customer Service
Not only do we have the best British, American and European leaders and local Sherpas, we also use excellent hotels and equipment, our cooks prepare delicious food, and we pride ourselves on offering very competitive prices. Please contact us now to learn more about our quality services.

Discounts for groups of 2 or more, returning members, doctors.

Want to become a leader? DiscountsForGuides.com & LeaderInTraining.com: Discounts, free hotels.
On the summit of Mera Peak.

I look forward to answering your questions, hearing your ideas,, meeting, and climbing to the summit together with you. Welcome to our team! - Dan Mazur

Dan Mazur | SummitClimb.com | Telephone UK: +44 (0)7810 375400 | (Telephone USA) +1 360-570-0715 | DanielMazur@SummitClimb.com | Skype: dan.mazur8848 | WhatsApp / SMS / Text Messaging: +13602503407