Exclusive invitation to join our autumn treks
Exclusive invitation to join our autumn treks
Photos in slideshow: Fabrice Imparato, Dan Mazur, Joanna Goodson, Ken Stalter, Ryan Waters, Bruce Manning, & Tunc Findik.
Greetings walking, trekking, and hiking enthusiast,

I hope you are well and having a wonderful 2013 so far.

We have been extremely busy and have just experienced our most successful ever Himalayan walking, trekking, and hiking season, with our Everest Trek teams of men and women of all ages reaching basecamp and achieving their goals.

Our Everest Training climbs on the Tibet and Nepal side of Everest and basecamp treks all went well.

Also this spring we had three projects with the Mount Everest Foundation for Sustainable Development. you can read all about it on our website here: http://www.summitclimb.com/new/default.asp?linktype=r&mtype=smenu&vid=948&nid=221 .
Woman using Biogas stove. Porters carrying blue barrel toilet drums at Gorak Shep.T
Overhead view of Deboche. Photo Mingma Sherpa.
Just a bit of the rubbish collected from basecamp and Gorak Shep being burned and processed for transport to lower altitude.
The reason I am writing to you today is because you have previously expressed an interest in our Everest basecamp trek, Climate change trek, Service trek or Sherpa training school trek and this is a quick reminder that the booking deadline for all of these treks is fast approaching –10th September. We have to submit member's passport scans for the permit and we need all completed paperwork and payments prior to then. INEXPENSIVE PLANE TICKETS ARE AVAILABLE. Return flights need to be booked now for the most favourable prices. Please ring or email if you need assistance in finding the cheapest and best fares and routes.
Here is a brief reminder of the main details: Back to top

EVEREST BASECAMP WALK NEPAL: www.EverestBasecampWalk.com 18 days in October, April and May. Walk on wide snow-free trails through green terraced villages perched beside rapidly flowing rivers beneath the towering snowy giants of the Himalaya to Nepal's most famous and beautiful basecamp first climbed by Sir Edmund Hillary and Tenzing Sherpa; hike the scenic ridge of Kala Pattar with stunning views of Everest. Your leaders Mingma Sherpa and his wife Yangjie Sherpa are highly educated, were raised in this valley, have been to the Hillary School and attended university in Kathmandu. Their English is superb, they are friendly and gracious hosts, and as you walk together each day, they will explain every detail of the trek and answer all of your questions. REDUCED PRICE! - Cost: $1850, £1150, €1450. www.SummitTrekNews.com .
The Khumbu Icefall as seen from basecamp
(Fabrice Imparato)
.
Animal seen in Namche hill. Photo by Stephanie. Animal seen in Namche hill. Photo by Stephanie.
Our trek is one of the most beautiful trips in the world (
Bruce Manning
).
One of the many terraced hillsides on the trek to Everest basecamp (Elselien te Hennepe).
NEW CLIMATE CHANGE TREK: www.ClimateChangeTrek.org . 21 days in Nepal in October. On this trek you will have the opportunity join glacier Dr. Ulyana Horodyskyj and participate in research to understand the rate at which Mount Everest's glaciers are melting. Our goal is to determine the life cycles of these lakes and how they contribute to the bigger picture of the (diminishing) life cycle of the glacier. Also, walk on wide trails through lovely terraced villages perched besides rapidly flowing rivers beneath the towering snowy giants of the Himalaya to with stunning views of Everest. Cost: $2250, £1,450, €1,750 www.ClimateChangeTrek.com.
Back to top
Standing next to an ice block from an ice calving event on a glacial lake,Ngozumpa glacier. (AngPhula Sherpa), Exploring one of many glacial lakes on Ngozumpa glacier.View of the terminus end of Ngozumpa glacier from the top of GokyoRi.
View of Everest, Nuptse and Lhotse.

(Ulyana Horodyskyj.
Back to top
www.RemoteNepalServiceWalk.org : 13 days in November or June. Join experienced friendly leader Dan Mazur and some of the world's best Everest climbing sherpas with the Mount Everest Foundation for Sustainable Development (MEFSD) to walk the beautiful green foothills beneath Mount Everest and explore ancient uncut forests and terraced farmlands. Come one come all! It's an affordable price and the funds go to a great cause. You will definitely be called upon to help out (if you want to, but you are not required to) the local villagers, by teaching at local schools and doing medical checks, and checking building construction as you walk through this remote pristine unspoiled part of Nepal that is never visited by tourists and is not mentioned in the Lonely Planet nor any other guidebooks. Visit friendly farm families living a traditional life, and deliver needed medical and educational supplies to remote schools and hospitals. This is a low altitude trek and you will never step on snow nor walk higher than 2700 metres / 8850 feet. Discounts for medical professionals and teachers. ***During our recent trek, members delivered needed medical and school supplies and clothing, also tried their hand at teaching and seeing patients. Donation: $1450, £950, €1050 (100% of your contribution for the trek and your international flight are gift aid eligible). Price includes everything for the walk: free sherpas, free hotels and free internal flights. View the latest news at: www.ServiceTrekNews.org.
(photo right by Murari Sharma:
Patale
health post worker
Jamyang
and Dr. Lisa McClellan examine a
Nepalese baby
.
New Patale health post in progress, Many thanks to Erik Petersen, www.theFitBar.com , Kevin Burke, Bellerina Yeo, Barclays Capital Singapore, and Katharine Peacock (Dan Mazur)
. Giving out school supplies at the school in Patale.
Back to top
Trail of service trek. Photo Jeremy Smith
Himalaya View on the way of service trek. Photo by Marie
.
SHERPA TRAINING CLIMB IN NOVEMBER. 3-24 November. Donation: $2950, £1850, €2150. (Donation includes hotels, domestic flights, climb and trek, etc. We are glad to provide a receipt in case all costs are associated with this trip are tax deducatable, such as your international flight, etc. we do provide discounts for groups and guides as well) Our recent climbing school was a great success with a group of volunteers helping 6 new Sherpas from low income families learn important safety and climbing skills and techniques. This November, join leader Jangbu Sherpa (14 time Everest summiter) and Dan Mazur to head for the glaciers around Everest with a group of new Sherpas from a remote low income farming community for a fun training and skills building course. Please read more at: www.SherpaTrainingSchool.org . By the way, the sherpas need crampons, ice axes, harnesses, climbing gear, boots, helmets, down jackets, down trousers, and high altitude mittens and gloves. If you know of anyone who could donate these, we are keen to arrange shipping to Nepal. PLEASE GET IN TOUCH WITH ME NOW VIA PHONE OR EMAIL. YOUR PARTICIPATION IS CRUCIAL IN HELPING THE SHERPAS LEARN THE SKILLS THEY NEED TO STAY SAFE AND TO HELP THEIR OWN PEOPLE.
Sjoerd Wever, Shera Sherpa, and Sean McLane on the summit of Lobuche during the Everest Glacier School. Photo by Sjoerd Wever . Toni Taylor takes on the practice ice wall at Naulekh Glacier. Back to top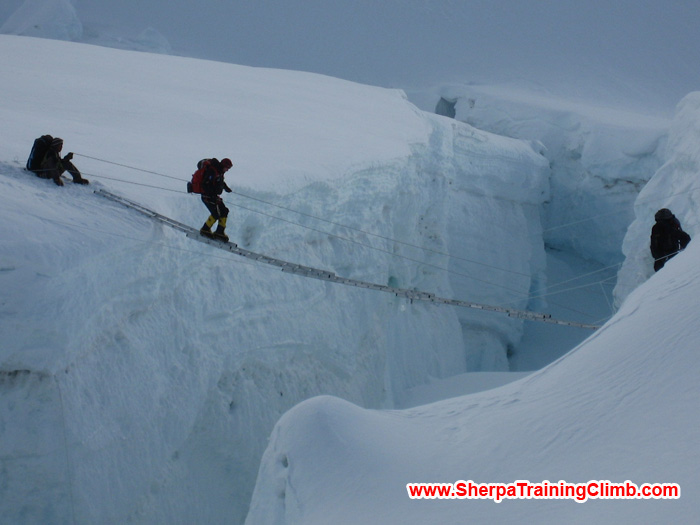 Sherpas helping a member to cross the Khumbu Ice fall. Photo Squash & Stew
Please let me know your questions, thoughts, concerns and plans. Feel free to ring me on UK telephone: +44 (0)7810 375400, or USA phone +1-360-570-0715. email me: dan@summitclimb.com , Skype: Dan.Mazur8848 or contact me via one of my social network accounts listed in my signature at the end of this message.

Time and spaces are running out so as soon as possible please secure your place. To find the application, please put your cursor on the Contact/Application button on the upper right of www.SummitTrek.com and go down to "applications" and then choose the relevant one from there. Thank you very much

I would also like to take this opportunity to briefly mention our other upcoming expeditions which may also be of interest:
www.ExpeditionAmaDablam.com - 32 days Oct-Nov. 6800 mtrs / 22,300 ft. Asia's best snow, ice, rock, climbable-technical. Qualify for Everest! Back to top
Gyelje Sherpa in the lower part of the grey tower. Checkout camp two on top of the yellow tower in the lower left. photo by Maaike Braat. Approaching yellow tower snow ridge below. Photo Kunnar Karu.
The amazing camp 2 at 6000m - Romain Hoffmann.
Kunnar, Arnold and Jangbu on the Summit of Ama Dablam

www.BaruntseExpedition.com - 34 days. Oct-Nov. Nepal's 'easy' 7000 m / 23,000 ft peak. Includes www.MeraPeakExpedition.com & famous Amphu-Labtsa pass.

Barunste summit Frank Seidel. Photo Frank Seidel. Top of the summit of mount Barunste. Photo Frank Seidel
.
View from Summit of Barunste. Photo Frank Seidel. Summit ridge of Barunste. Photo Frank Seidel
.
www.EverestGlacierSchool.com - 22 days (or 7 day course only) Oct, April or May. Learn glacier climbing on 6000 mtr / 20,000 ft peak. Visit Everest basecamp. Back to top
View from the summit of Lobuche East (Max Kausch).
Approaching to summit of Mount Lobuche (Sjoerd Wever).
Sean McLane nearly on the summit of Lobuche Peak. (Sjoerd Wever). Ang Dorjee and Shera setting the ropes for the glacier practice at the Cho La Pass (Sjoerd Wever).
www.ExpeditionAconcagua.com - 20 days Dec, Jan or Feb. Easy intro 7000 m / 23,0000 ft, low cost: $3450. A "7-summit".
Team members in the top of the Canaleta, heading up towards the summit (Ted Alexander).
Team heading up from camp 1 (5,000 metres/16,400 feet) to camp 2 (Ted Alexande

).
Back to top
www.ExpeditionChoOyu.com - 38 days April-May or Sept-Oct 'Easiest' "8,000 metre" / 26,000 ft peak. The best possible preparation for Everest.

Our comfortable ABC (Fergal Savage). Near to Overhang between Camp 2 and Camp 1. Photo John and Debbie.
www.ShishaPangmaExpedition.com - 38 days Sept-Oct or 15 days in October (Cho Oyu combination) climb the lowest of the world's 8000 m / 26,000 ft high mountains.

Summit ShishaPangma.Way to camp 2 (Max Kausch).
Avalanche seen from Camp 1 (Max Kausch).
View of Shishapangma from ABC (Max Kausch).
www.EverestNepalExpedition.com - 8848m / 29,035 ft 60 days April-June. Leader Arnold Coster. Nepal side of Everest warmer and more beautiful than the Tibet side. Back to top
A chance meeting on the summit and an amazing coincidence. SummitClimb's teams from both North (Tibet) and South (Nepal). Mingma Sherpa Photo.
Summit of Everest by Adam Dixon. Photo Adam
www.EverestTibetExpedition.com - 8848m / 29,035 ft 60 days April-June. Leader Dan Mazur. Tibet side of Everest less crowded and less expensive than Nepal side.

Chris Bailley at the summit of Everest. Photo Chris. David at summit of Everest. Photo Chris Bailley.
www.LhotseExpedition.com - 8551m / 27,923 ft 60 days. April-June. Climb Everest route; branch off before high camp; ascend Lhotse Couloir. High summit, low cost. Back to top

www.EverestTrainingClimbNepal.com - 31 days (or 16 day climb) April or May. We teach everything you need to know. Same route as Mt. Everest; stop in camp 3 at 7300 mtr / 24,000 ft. Good altitude test and check out Everest in a short time for much less money. Do well in April, try for summit of Everest.

Ascending Lhotse Face by Scott Smith. Decending Into Khumbu Icefall, below camp 1. by Scott Smith.
www.EverestTrainingClimbTibet.com - 28 days.April or April-May. 'Easy' 7000 mtr / 23,000 ft peak. Do well in April: transfer to Everest or Cho Oyu.

Summit view from Camp 3. Photo Martin. Member reaching Camp 3. Photo Martin
www.MustagataExpedition.com - 25 days, July. 'Easy' 7500 m / 24,500 ft peak. Ski, snowboard, snowshoe, and raquette. Qualify for Everest! Back to top
www.SeattleGlacierSchool.org - 7 days in July. No cost. Leader: Dan Mazur. Learn glacier climbing. Attempt a 4500 mtr / 14,500 ft peak. Plus NEW DAILY SEATTLE GLACIER SCHOOLS: Free of cost, no charge. We now offer our customized glacier training course as a special 1 day program on the most glaciated ice mountain in the USA (outside of Alaska)

Heather Jennings uses her ascender to pull herself back to the surface during self rescue practice (Heather Jennings).
Abhi looks out at just how far he has come on the slope leading to the summit (Heather Jennings)
Also please note that we offer excellent group discounts (between 5-15%) plus CASH commission on referrals. So please tell your friends about our expeditions in order to earn your commission. Back to top

Our growing company is always looking for members who would like to learn to become leaders, so please visit www.LeaderInTraining.com, where we give special discounts for learning leaders and mountain guides.

I look forward to chatting, to meeting, and to trekking together. Please keep the questions coming and welcome to our team.

-Dan Mazur

UK telephone: +44 (0)7810 375400 (evenings best, I may be out climbing in the day);
US telephone: 1-360-570-0715;
UK address: 30 Downfield Lodge, Downfield Road, Clifton, Bristol, BS8 2TQ England;
US address: POB 123, Lakebay, WA, 98349;
Ps. PLEASE BE SURE TO TELL ALL OF YOUR FRIENDS ABOUT WHAT WE ARE TRYING TO DO (WE PAY YOU A CASH COMMISSION "FINDER'S FEE" FOR SENDING US NEW MEMBERS).
THANK YOU. Back to top