Photos in slideshow: Fabrice Imparato, Dan Mazur, Joanna Goodson, Ken Stalter, Ryan Waters, Bruce Manning, & Tunc Findik.
Everest Training At Home? Our Climbs and Treks Leave In 45 or 60 Days.


Are you and friends training for Everest? Get ready, as our trips for men and women of all ages and abilities depart in a little over a month (some 2 months)! Please read down to share training tips and to see all of the peaks we have ready for YOU.

Everest News Flash: There are only 3 spots left on our 2015 Everest expedition.
Big News About Everest: While www.EverestTibet.com has increased in popularity this year, the "Ice Fall Doctors" just annouced they will be wisely moving the www.EverestNepalSide.com route to the safer centre of the icefall, away from the avalanche threatening sidewalls.

Hi, I am Dan Mazur. I invite you to climb to the summit and trek to base camp with me. I am one of the British and American leaders for SummitClimb and SummitTrek now in their 20th year, with 9 succesful Everest expeditions from Nepal (south), Tibet (north), many Training Climbs, Glacier Schools, Treks, and Charity Sherpa Support. I am writing to update YOU on training ideas.

Our trips are full service, with the best leaders, top notch Sherpas, excellent equipment, free internet, free domestic flights, free hotels, free oxygen, all trekking climbing expenses included.

Group discounts for 2+. 80% of members join as individuals. Arrive alone, depart with new friends!
Contact me now to discuss our favourite toptic: mountains ! DanielMazur@SummitClimb.com , tel UK: +44 (0) 7810375400, tel USA: +1-360-570-0715, Skype: dan.mazur8848 .

Like Us to Register for the Gear-Grab!! www.facebook.com/SummitClimbers .

Please study our www.PreTripNewsletter.com . Go to: "HOW TO JOIN THE TEAM "

Is climbing a mountain the best way to train for Everest? Why not try our entry-level 7-21 day www.EverestGlacierSchool.com . Looking for greater challenge? Thats why we offer the quick and affordable www.EverestNepalTrainingClimb.com and www.EverestTrainingClimbTibet.com . Both get you to 7000 metres / 23,000 feet on mighty Mount Everest herself, while learning ice axe, rope, crampon, and expedition techniques. You will become physically fit during the trip, as well as test yourself at a high altitude. We have a frugal "16 day option". Feel well during the training climb and transfer to the Everest summit climb.

Not sure you want to climb? Walk to basecamp, go high, see how you feel up there. Stay on easy snow-free trails. Sir Edmund Hillary's Nepal = wwwEverestBasecampWalk.com . Exotic medieval Tibet = www.AdvancedBaseCampWalk.com , highest you could walk and still be on yak trails.

What is the best possible preparation for Everest? An 8,000 metre / 26,000 foot peak where you can see what its like to summit a towering Himalayan giant in a shorter period of time for less money. Checkout our www.ChoOyuclimb.com , www.LhotseClimb.com and the ever popular "double-header" of Cho Oyu combined with www.ShishapangmaClimb.com (20% discount).
Members climbing to North Col - Photo Scott Patch. Sherpa breaking trail down to ABC from North Col after fresh snow - Photo Mia Graeffe.
Sherpas helping a member to cross the Khumbu Ice fall. Photo Squash & Stew


How do Sherpas train for Everest? www.SherpaTrainingSchool.org . Donations of gear and clothing are graciously accepted. Free Shipping of Gear Donations to Nepal. Interested in visiting unspoiled regions with no tourists and working together with Sherpas families for education, health care, environmental and cultural preservation? www.RemoteNepalServiceTrek.org .

Can't get away this spring? We have so many options for the 2nd half of 2015 and all of our trips run in 2016 too. Please read down for the descriptions and see lovely photos of all of "YOUR" peaks.

HOW TO GET FIT AT HOME? HERE IS WHAT PRO MOUNTAIN TRAINER BEN PALMER HAS TO SAY:
Avoid training injuries. Go for shorter, more frequent but less taxing workouts/ Take more rest. After you get "up to speed" increase the rigour. Swimming is a low impact form of training.
Work toward exercising 3 to 4 times a week for between 40 - 90 minutes each time. Expect to work hard, and try to keep your heart rate quite high and your breathing quite heavy.
Adequate rest and a well balanced diet are essential to avoid injury and illness before the expedition. Sleep at least 8 hours per night, and eat 3 nutritious meals a day. Try hard to drink at least 4 litres/quarts of water a day.
You may wish to engage the services of a personal trainer, who could be a great motivator.
Using both gym equipment and the great outdoors will provide a more balanced exercise programme. It would be nice to accomplish at least half of your workouts outside, and above all should be fun! Hillwalking and climbing with a pack weighing 5-10 Kilos/10-20 pounds is essential. If you don't have hills, why not go for stairs, bleachers, viewing stands, stadiums, even the stairways in tall buildings? In the gym, spend time directly working the muscles of the legs, back and shoulders, and remember your own body weight can be just as effective as machines.
About 6 weeks before the expedition, you may wish to do 1 full day each week of hill walking, climbing or an equivalent, with a light rucksack. Work toward six-eight hours of continuous walking or climbing up and down hill, with 4-6 separate ten minute breaks and a 1/2 to 1 hour lunch break.
To minimize injury, consider starting with a half day and then if you do well, increase to 2/3 of a day, then eventually to a full day, once a week.
Hint: when carrying a rucksack downhill, try a bit less weight in your rucksack in order to save your knees. Many trainers advise bringing water bottles up the hill then emptying them at the top so your rucksack is lightened for the trip down.
We wish you very good training and look forward to climbing to the summit and trekking to basecamp together. - Dan Mazur and all of us at SummitClimb.com

Below please find important info and beautiful photos of each mountain we offer.
The famous Hillary Step . (Sange Sherpa). South Col route taken from above Pomori ABC. Photo by Patrick McKnight .
A chance meeting on the summit and an amazing coincidence. SummitClimb's teams from both North (Tibet) and South (Nepal). Mingma Sherpa Photo. Summit of Everest by Adam Dixon. Photo Adam
EVEREST NEPAL SUMMIT: Easier, warmer, less windy than Tibet side. 9 time leader Dan Mazur. April-June or Sept-Oct. 60 days. www.EverestNepalExpedition.com. 100% of our team summited. !! Begins on 7 April. Flexible Option: arrive anytime in April- May. Full Service: $36,450, £23,950, € 31,450 ; Basic Climb: $14,950, £9850, €12,950. EXPERT SHERPAS, FREE OXYGEN, FREE HOTELS, FREE INTERNAL FLIGHTS. News at: www.EverestNepalNews.com .
Team members climbing up through the ice-fall.Photo Samuli Mansikka. Our team members approaching camp 1 above the ice-fall. Photo Tunc Findik

EVEREST TRAINING CLIMB CAMP 3 NEPAL. Good altitude test. Patient instructor: Everest leader Dan Mazur. April or May. 31 days (or 16 day option) www.EverestNepalTrainingClimb.com Trek to base, learn glacier rope ice skills. Acclimatize cautiously. Climb Khumbu icefall, Western Cwm. Carefully ascend to camp 3 - 7300m / 23,000ft . Two climbs, one on 7 April another on 21 April. Or Flexible Dates: arrive anytime in April-May. Full Service: $8,650, £5,650, €7,450. 16 day option : $6350, £4150, €5,450. If you feel well, join www.EverestNepalClimb.com . INCLUDES EXPERT SHERPAS, FREE HOTELS, FREE INTERNAL FLIGHTS.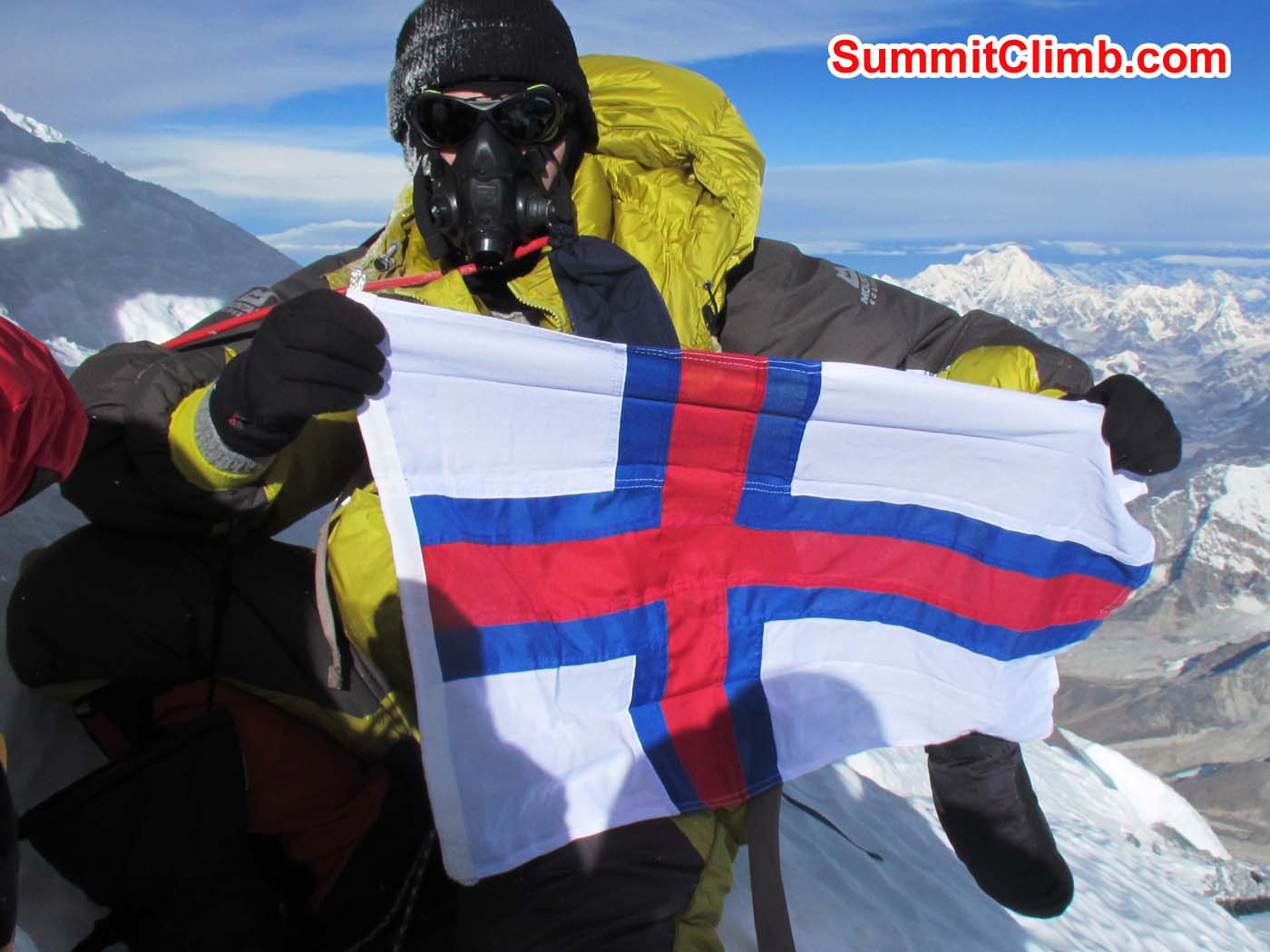 Mia Graeffe on Summit of Everest - First Female from Finland to summit Everest from Tibet - Photo Mia Graeffe. Arni Vatnhamar on summit of Everest. First individual from Faroe Islands to summit Mount Everest. CONGRATULATONS!! Photo - Arni Vatnhamar
A great view of the North Face of Everest. Our members approaching camp 2 at at 7500 metres/24,600 feet. photo Myles Osbourne
EVEREST TIBET SUMMIT: Less expensive, more remote, less crowded than Nepal. April-May. 60 days. 100% of our team summited in 2014. www.EverestTibet.com . 4 time leader David Obrien: experienced, friendly, well organised. Tibet side of Everest: cheaper, colder, windier than Nepal. Begins on 7 April, or Flexible Option: arrive anytime in April-May. Full Service: $28,450, £18,750, €24,550; Basic: $9950, £6550, €8,550. EXPERT SHERPAS, FREE OXYGEN, FREE HOTELS. News: www.EverestTibetNews.com .
(photo right by Fredrik Strang:
Trekking between basecamp and interim camp,
which is located at 5,800 metres/19,000 feet, and halfway to ABC).
(photo right by Ryan Waters: Climbers approaching the North Col at 6,800 metres/22,300 feet).
(Peter Hage). Team at Advanced Base Camp after Puja ceramony - Photo Scott patch.

EVEREST TIBET TRAINING CLIMB NORTH-COL: World's easiest 7000m/ 23,000ft peak. On Everest's shoulder. Learn to climb Everest in 28 days. April - May. See how you like altitude in a short time. Leader David Obrien: experienced, friendly, good teacher. If all goes well, join Everest or Cho Oyu. 2 climbs, one on 7 April and other on 21 April. Flexible Option: arrive anytime in April-May. Full Service: $7,950, £4,950, €6,850. www.EverestTrainingClimbTibet.com . INCLUDES EXPERT SHERPAS AND FREE HOTELS.
Thomas and Stefan on the summit of Cho Oyu. Uwe Werner Photo. Uwe and Thomas on the summit. Stefan Simchen photo.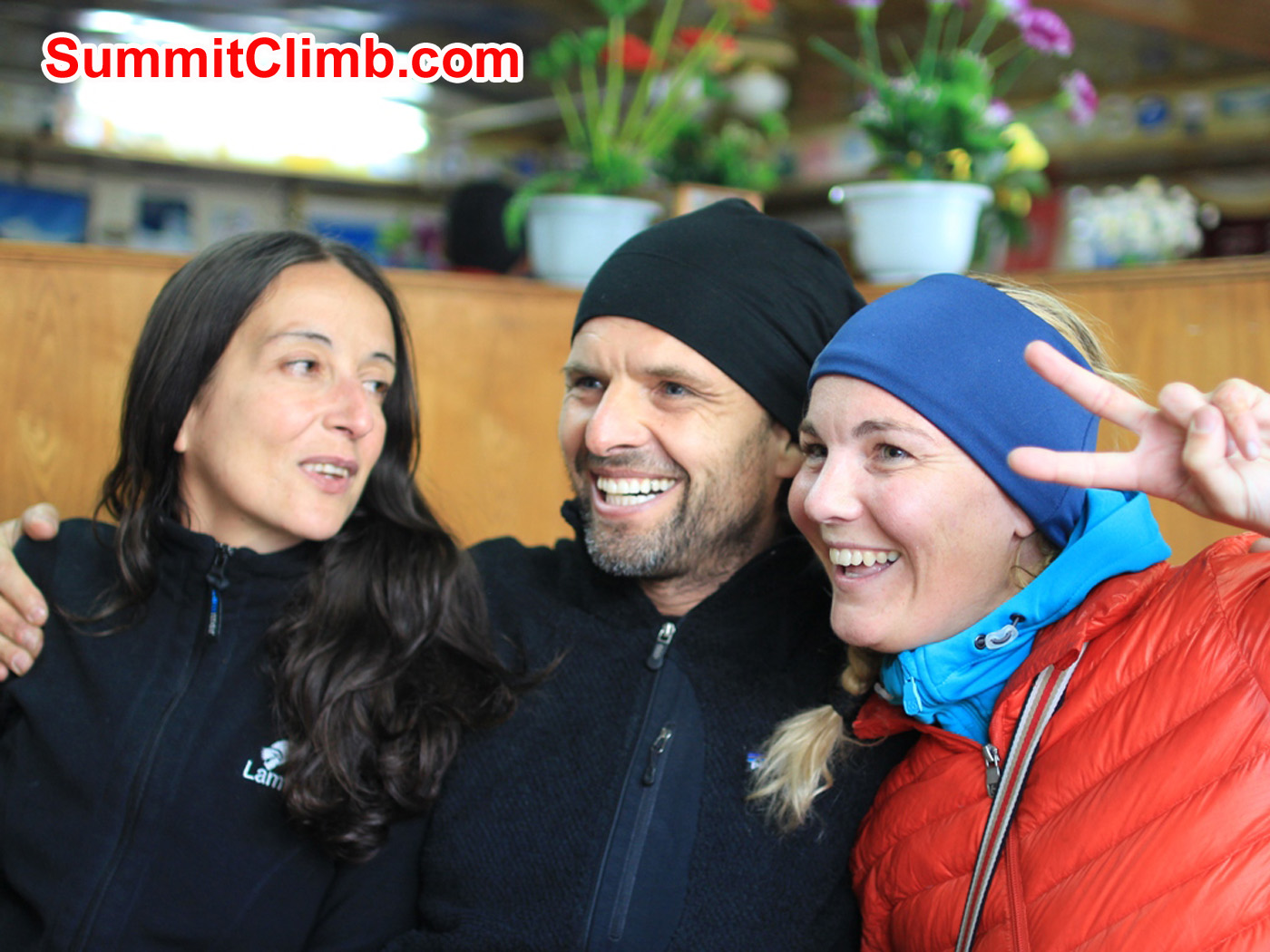 Marina, Christian, Villa, Cho Oyu Team Spirit. Christoph Forster Photo.Marina Stefan Christoph in Tingri Photo by Marina Cortes
La Lung Leh Pass at 5226m. Foto by Stefan Simchen. Kloster Mila Repas Cave. Foto by Thomas Hoffmann.
MOUNT CHO OYU : Easy 8,000m, 26,000ft peak. Best preparation for Everest. www.ExpeditionChoOyu.com April-May, and September - October. 38 days. 6th highest in world. Located near Everest on Tibet Plateau. 7 time leaders Dan Mazur and Angel Armesto: very experienced, friendly, teach you everything you need to know. We summited safely in 2010, 2011, 2012, 2013 and 2014. Choose fixed dates or Flexible Option: arrive anytime in April-May or September-October. Full Service: $12,850, £8450, €11,150; Basic: $6650, £4350, €5750. Please see www.ChoOyuNews.com . INCLUDES EXPERT SHERPAS AND FREE HOTELS.
Our team at ABC leaving for camp 1. Climbing near the Gendarmes on our summit attempt at around 7600 metres/25,000 feet.
SHISHAPANGMA: "Off beaten track" 26,000 ft / 8,000m in Tibet - perfect Everest preparation. www.ShishaPangmaExpedition.com 38 days April-May or September-October or 15 days in October (Cho Oyu - Shishapangma "double-header"). Very climbable. Lowest of the fourteen 26,000ft / 8000 m peaks. Flexible Option: arrive anytime in April-May or September-October. Full Service: $12,850, £8450, €11,150; Basic: $6650, £4350, €5750. 20% discount for Cho-Shish "double-header". www.ShishapangmaNews.com . HELPFUL EXPERT SHERPAS , FREE HOTELS.


Alex Holt on the summit of Lhotse. Everest behind (Alex Holt). At the fork in the road. Left takes you to Everest South Col and right takes you to Lhotse high camp (Gavin Vickers). Climbers in the Lhotse couloir looking up toward the summit (Alex Holt). Summit ridge of Lhotse with summit shadow behind (Alex Holt). Dorje Sherpa on the summit of Lhotse (Gavin Vickers). Gavin Vickers on the summit of Lhotse (Dorje Sherpa)
MOUNT LHOTSE: High Nepal summit, cheap, same route as Everest. www.LhotseExpedition.com April-May, 60 days. World's 4th highest peak. Climb Everest to camp 3; branch off; ascend Lhotse. You: climb 50 degree snow/ice. Leader Dan Mazur: 9 time Everest, 4 time Lhotse summit. 100% of our team summited !! Full Service: $14,850, £9,750, €12,850; Basic: $4,950, £3250, €4250. EXPERT SHERPAS, FREE OXYGEN, FREE HOTELS, FREE INTERNAL FLIGHTS. Fixed dates or Flexible Option: arrive anytime in April-May.
Broad Peak 2014. Aufstieg Gipfelgrat. Broad Peak 2014 Tosten am Gipfelgrat.

Broad Peak . Vorgipfel Richie S. Broad Peak . Österreich Hauptgipfel

BROAD PEAK - Cheap 8,000m / 26,000ft peak in Wild Pakistan. www.BroadPeakExpedition.com. World's 12th highest and easy 8000 metre peak. See how you feel at high elevation. Get to know some of our world's most astonishing landscapes. Qualifies you for Everest from Tibet, Everest from Nepal or Lhotse. Experienced SummitClimb leader Felix Berg. Explore the Baltoro Glacier during 5-day trek to basecamp. We need to know by 15 May if you will be joining. 21.June - 2 August 2015. 43 days in Pakistan. Full Service Cost: $11,500, £7590, €9950; Basic Climb Cost: $6420, £4100, €5550.
Team Summit - Photo Paul Sodamin.
Team at yellow tower - Photo Paul Sodamin. Team going to ABC. Photo Alfons Höllwarth.
Paul climbing up yellow tower - Photo Alfons Höllwarth. Yellow tower action - Photo Sodamin Paul
AMA DABLAM: Wolrd famous rock, snow, ice peak. Matterhorn of Himalaya. Climbable easy granite. www.AmaDablamClimb.com -Full Servicet: $5550, £3450, €4750 ; Basic: $2450, £1550, €2150; 10 October to 7 November (29 days). Extended dates: 1-29 November. Flexible option: join anytime from 10 October - 1 December. Solid rock "scrambling" with fixed ropes. For novices to experts. Only 1 "demanding" pitch of European (French) 4, Australian 12, British Severe, North American 5.5. Test yourself to 7000m / 23,000ft. nearby Everest. Led by Dan Mazur and Dani Fuller, 9 Succesful Ama expeditions, friendly teachers. Rope training on warm base camp cliffs. We summited 2010, 2011, 2012, 2013, 2014. EXPERT SHERPAS, FREE HOTELS, FREE INTERNAL FLIGHTS. Good prep for Everest. News: www.AmaDablamNews.com .
Summit Ridge. Summit Photo Torsten Eickhorst
Summit Photo Torsten Eickhorst
MOUNT BARUNTSE: 3 remote peaks in one . Nepal's "easiest" 23,000ft (7,000m) peak. Novices and experts. www.BaruntseExpedition.com 34 days October-November. Grand Circle of Everest Himalaya, stunning views. Secluded trek, jungle passes, climb famous Mera 'trekking-peak' and mighty Baruntse, cross high 'Amphu-Labtsa' pass, pop out on comfortable Everest basecamp trek. 5 time leaders Dan Mazur and Dani Fuller, teach everything you need to know. Full Service: $8950, £5450, €7750. Dates 12 October to 14 November. 34 days. New option: climb "Baruntse Only" 1-29 November (29 days). Full Service: $6950, £4500, €6050. INCLUDES EXPERT SHERPAS, FREE HOTELS, FREE INTERNAL FLIGHTS. Qualifies you for Everest. Our teams reached the summit in 2010, 2011, 2012, 2013 and 2014: www.BaruntseNews.com
Team members on the Cho La Glacier having fun. (Valerie Hovland). Team member and sherpa on the summit of Lobuche (Valerie Hovland).
EVEREST VIEW GLACIER SCHOOL: Learn to climb a 6000m / 19,500ft snow peak. Everest summit views. www.EverestGlacierSchool.com AWARDED NATIONAL GEOGRAPHIC'S "25 BEST NEW TRIPS". Learn about equipment, rope handling, ascending and descending on glaciers. - 22 days Full Service: $2950, £1950, €2550. Seven day option: $1450. April-May, October-November.INCLUDES EXPERT SHERPAS, FREE HOTELS, FREE INTERNAL FLIGHTS. Friendly Ang Sange Sherpa led 14 Glacier Schools, is an excellent instructor. Feel well? Transition directly to Everest Nepal Training Climb or Cho Oyu. Fixed dates or Flexible Option: arrive anytime in April, May, October or November. Read more at: www.EverestGlacierSchoolNews.com
A member approaching the final metres towards the summit.(Valerie Hovland). Nathan, Sangeeta, Thile and Dan on the summit of Island Peak. Photo by Thile Nuru Sherpa.
Animal seen in Namche hill. Photo by Stephanie.
Basantapur Darbar.Very good day in hiking. Photo Scott Younghusband.
ISLAND TREKKING PEAK: Nepal's most famous easy trekking peak. Climb to 6,000m / 19,500ft in just 1 day. www.IslandPeakClimb.com - 22 days or 5 days (climb only) in April-May or October-November: Includes Everest Base Camp. Friendly leader Lakpa Sherpa: 25 Island Peak Climbs. Excellent teacher. Introduction to high altitude. Full Service: $2950, £1950, €2550. Five day option: $1350. INCLUDES EXPERT SHERPAS, FREE HOTELS, FREE INTERNAL FLIGHTS. Fixed dates or Flexible Option: arrive anytime in April, May, October or November. We summited safely in 2010, 2011, 2012, 2013, and 2014: www.IslandPeakNews.com
Kaley Erickson, Tim Dembosz and Bill Moton Mera Peak high camp. Summit Mera Peak by Bill. Photo Bill moton.


Hiking up to next camp. Kaley Erickson. Dan enjoying beautiful day in camp. Photo Kaley.
MERA TREKKING PEAK: Best Everest views from this easy remote Nepal 6500m / 21,000ft trekking peak. 22 days October-November. www.MeraPeakClimb.com . Learn about walking and easy snow climbing. Summit a fun high peak. Stunning views of Everest. Perfect introduction to altitude. Friendly 6 time Mera Peak and 9 time Everest leader Dan Mazur is a patient teacher. Full Service: $3150, £2050, €2750. EXPERT SHERPAS, FREE HOTELS, FREE INTERNAL FLIGHTS. Flexible Option: arrive anytime in October-November. We reached the summit safely in 2010, 2011, 2012, 2013 and 2014. News page www.MeraPeakNews.com . OPTIONAL : you may wish to bring skiis or snowboard (please watch the video on news page).
View from kalapather. Photo Scot Younghusband. Team at everest basecamp. Photo I dumanski
Hiking up in Tangboche hill. Photo Scot. Beautiful day. Photo Scot.

EVEREST BASECAMP WALK: With Dan Mazur. Everest 9 times. Edmund Hilary's world famous basecamp www.EverestBasecampWalk.com 18 days April, May, October, November. Wide snow-free trails. Green terraced villages beneath towering icy Himalayan giants. Walk up Kala Pattar. Stunning Everest views. Leader Dan Mazur: friendly and knowledgable. REDUCED PRICE! - Cost: $1850, £1250, €1550. INCLUDES HELPFUL SHERPAS, FREE HOTELS, FREE INTERNAL FLIGHTS. Recent Everest walk: fun, succesful, interesting: www.BaseCampNews.com . Fixed dates or Flexible Option: arrive anytime in April-May, Oct-Nov.
Some of our sturdy yaks near basecamp. They are taking the time to wander and rest once free of the heavy loads they carry. They carry group equipment and your personal equipment all the way up to ABC, so you do not have to carry a heavy rucksack. Photo Ryan Waters. Basecamp at 5200 metres with Everest behind (Photo by David Howard).
Rikke at Tingri behind Fortified tower reconstructed from the ruined Tingri fort. This is now Tingri's main temple. From here it is a short drive up to Chines basecamp at 5200 metres/17,000 feet. Photo Rares Voda
EVEREST TIBET ADVANCED BASECAMP WALK: High trek: Best views of Everest . Better than Nepal. www.AdvancedBasecampWalk.com 20 days April-May - Full Service: $3,850, £2,350, €3350. INCLUDES EXPERT SHERPAS AND FREE HOTELS. 4 time leader David Obrien. See exotic Tibet. Feel the high altitude. Made famous in 1924 by Mallory and Irvine. Latest news: www.AdvancedBaseCampNews.com . Flexible Option: arrive anytime at your convenience during April or May.
photo by Murari Sharma: Patale health post worker Jamyang and Dr. Lisa McClellan examine a Nepalese baby. Giving out school supplies at the school in Patale
REMOTE NEPAL CHARITY SHERPA TREK: Low altitude trek. Deliver needed medical supplies and care, teach in schools, live with friendly Sherpa families. Gorgeous remote Nepal. Leader Jangbu Sherpa is a community leader and a real gentleman. 12 Days from 14 -26 June or 17-29 November. Full Service Trek: Donation: $1450, £950, €1250 (100% of contribution for trek and international flight are tax deductible). Discounts for medical professionals, educators. Choose fixed dates or arrive any month of the year. www.RemoteNepalServiceTrek.org . Includes all internal transport and free hotels.
A view of the Deboche Nunnery and surrounding valley (Marcia Macdonald).

Nuns made a special prayer ceremony wishing good luck to our team at the Deboche Nunnery. Ani Dolma, Mia and Squash enjoying making new friends at the Deboche Nunnery (Dan Mazur).
DEBOCHE PROJECT EVEREST SERVICE TREK: Restore Nepal's oldest convent, now in ruins. Near Everest. www.EverestBasecampServiceTrek.org. Trek to Deboche Nunnery. Snow-free paths through green terraced villages, rushing rivers, suspension bridges, lush forests, civilized 'teahouses' beneath towering peaks. We encourage anybody to join this trek, including medical practitioners, educators, farmers, gardeners, technicians, builders, foresters, renewable energy pros. You don't have to be an expert to make a difference. Leadership: Marcia Macdonald, Mingma Sherpa & Yangjie Sherpa, friendly, educated trekking experts. Dates: 26 March to 13 April or 10-31 October, 8 to 29 April. 22 Days. Flexible Option: arrive anytime in April, May, October or November. Donation: $2850, £1850, €2450. INCLUDES FREE HOTELS, FREE INTERNAL FLIGHTS.
Green way to annapurna trek. Tea house way in annapurna trek. Photo asia.gumbypp. Way to annapurna basecamp. Photo by Nava Raj Dahal.
Dhaulagiri from Ulleri. Lake Pohara. Nilgiri
NEW ANNAPURNA TREKS: Short - inexpensive treks to this famous and exciting part of Nepal. www.AnnapurnaSummitTrek.com Poon Hill Trek - 5 days = $500. Annapurna Base Camp Trek - 7 days = $700, Annapurna Circuit Trek - 10 days = $1000, Chulu East Trek Peak - 17 days = $1700. Visit world famous exotic lakeside town of Pokhara.
Team traverses the mountain. Murphy Osborne Photo. Murphy and Jason searching for avalanche beacons in deep snow.
Dan Mazur enjoys a blizzard during the Winter Glacier School. Murphy Osborne Photo. Eric, Austin, Dan and Marshall enjoying a delicious meal after the glacier school. Murphy Osborne Photo.


Our awesome group ona high ridge above camp 1 (Jackie Neau). Team doing a bit of glacier travel to our basecamp (Judi Crouse).
Erik ascending a ridge (Kevin Casey). Don practicing ascending on fixed rope during our glacier classes (Stewart Wolfe).
FREE SUMMER OR WINTER GLACIER SCHOOLS: Join Dan Mazur. Learn mountain equipment, snow - ice climbing, camping, glacier travel. 4400m / 14,400ft glacier summit. 9 time Everest leader Dan Mazur encourages novices and veterans to enjoy our favorite sport: mountaineering. All equipment you need can be hired or purchased on site. Other than that, your only expenses are groceries, gas, and the 42 dollar climbing permit. Summer School: www.SeattleGlacierSchool.org + www.WinterGlacierSchool.org . 20-27 June and 1-7 January. See www.SeattleGlacierSchoolNews.com + www.WinterGlacierSchoolNews.com .

NEW SHERPA CLIMBING SCHOOL: Thanks for donating climbing boots, ice axes, crampons, helmets, harnesses, clothing, shoes, rucksacks and other climbing gear. www.SherpaClimbingSchool.org . We could not have helped these hardworking Sherpa students without you, and please keep up the great work. If anyone knows of a person, group, company, club, shop, who wishes to donate, we can arrange free shipping to Nepal, and our leaders can pick up the donated items during their slideshow tours.

2015 CHARITY SLIDESHOWS: Join Himalayan climber Dan Mazur in Bristol on 3 March, hosted by Badminton School and the Royal Geographical Society. Donate your laptops for poor Nepalese girls who are learning English and bring climbing gear and clothing for Sherpa Training School. FREE SHIPPING TO NEPAL from USA and/or UK!
Gorak Shep (elevation 5,180 meters / 17,000 feet) with Mount Pumori in the background.Biogas Diagram.
CLEANING UP MOUNT EVEREST: www.CleaningUpMountEverest.org While visiting our world's highest mountain, climbers, trekkers, and walkers take away great memories, lots of photos and new friends, but leave behind their untreated waste. This needs to stop. At the Mount Everest Biogas Project our mission is to convert human waste from base camp into environmentally safe products for the people of Nepal, by designing a biogas system that can operate at high altitudes. The project is ready to go into the testing phase.

James & Allan on the way down - Photo: Max Kausch. Enjoying the beautiful day.
Mike and George on the summit at 6962m - Photo Mike Fairman. Group Dinner.
THREE ACONCAGUA CLIMBS: Highest Peak in all the Americas and a famous 7- Summit. December, January, and February. www.AconcaguaSummitClimb.com . Normal Route or Polish Direct Route. 20 or 23 days in Argentina climbing a very easy and very high mountain. 6980 metres / 23,000 feet high and excellent preparation for Everest. Friendly leader Max Kausch teaches mountain skills and has led 20 SummitClimb expeditions. Cost: $3750, £2260, €3250. Our team climbing to the summit now !! www.AconcaguaSummitClimbNews.com .
MOUNT MUSTAGATA: World's highest mountain which can be skiied, boarded, or snowshoed. 24,000 feet / 7500 meters. June, July and August. 25 days. SELECTED BY NATIONAL GEOGRAPHIC "BEST ADVENTURE DESTINATION". Friendly leader Julian Bierman: certified mountain guide. Climbing Mustagata qualifies you for Everest. Full Service: $5750, £3550, €4,950; Basic: $3150, £1950, €2,750. www.MustagataClimb.com



This is Kristine O'Brien and Gary Kellund resting at camp 2, 6200 metres/20,300 feet on Mustagata (K. O'Brien and G. Kellund). Our all female team, the "Lipstick Blondes" from the UK, in between camp 1 and camp 2 on Mustagata

MOUNT ELBRUS: Highest and easiest snow peak in Europe and one of the "7-Summits". Very easy beginner snow walk. See how you feel at high altitude in a short time at an affordable price. Stay in huts, ride ski lifts and snow cats and enjoy a short summit day. Friendly leader Julian Bierman is a qualified mountain guide. Equipment and clothing available for hire/rent. Normal Route: 24 July to 1 August , 14 August to 22 August , 5 September to 13 September. Normal Route: $2795 £1790 €2400. Ski Tour Date: 12-22 April , 1-11 May. Ski Tour Cost: $3090 £1975 €2650. Please contact us NOW: www.ElbrusSummitClimb.com
(photo by Scott Patch:
Jan and Dan on the summit
).(photo by Scott Patch: team heading for the high camp of Elbrus on a perfect sunny
Ruwenzori Mountains of the Moon: Africa's 3rd, 4th, and 5th peaks. Gorgeous national park, rarely visited. www.MountainsoftheMoonTrek.com 12 day trek/climb at any time of year. $4355, £2760, €3750. Stunning trekking and optional mountaineering. Mount Stanley is the largest with several subsidiary summits. Margherita Peak is the highest point. Known for lush vegetation: tropical rainforest, alpine meadows with snow. Wild animal population including forest elephants, primate species, many birds. World Heritage Site covered jointly by Rwenzori Mountains National Park in Uganda and the Parc National des Virunga in Congo.

KILIMANJARO / MT KENYA / SAFARI: Join us for our next Africa Expedition to Kilimanjaro, Mount Kenya and Wild Game Viewing Safari. Trip is available 12 months per year. Kilimanjaro (7 days, 6 nights): US$ 2250. www.KiliTrek.com Mt.Kenya trek or climb, US$ 1950.- (local guide for technical climb additional US$ 450). www.KenyaClimb.com . Amboseli Safari (3 days, 2 nights): US$ 1150. Lodge Safari / quite nice resort with view of Kilimanjaro. Package Mount Kenya & Safari & Kilimanjaro - Special price US$ 5150.
Mackinder's valley on Kili. Photo by Arnold Coster. Lion cub resting on a branch in Masai Mara national park. Photo by Jonathan Barbero.

Member watching Andrew belay on the Point Peter practice climb.
. Photo by Arnold Coster
View on Kili from Simba Camp. Photo by Arnold Coster Photo by Jonathan Barbero.
WELCOME TO OUR TEAM!! Lets explore the Himalaya together. Any questions? Please ask many. Then go to www.SummitClimb.com or www.SummitTrek.com and hit the "HOW TO JOIN THE TEAM " button.

TO HOLD YOUR PLACE, PLEASE NOW MAKE A REFUNDABLE TEN PERCENT DEPOSIT.

You may pay the entire cost of the trip with your credit card, make a bank transfer, mail a check, or pay cash, the choice is yours. Please visit www.SummitClimbPayment.com to learn more.
Discounts for returning members, groups of 2 or more, medical professionals. Please tell all of your friends about our trips, we pay cash commissions when you bring us new members.
Would you like to be a leader? Please visit www.LeaderInTraining.com and check out the discounts and learning opportunites. Already a mountain guide? Please ask about the special guide's discount.

Please contact me as soon as possible. I enjoy questions and discussing our favourite topic: MOUNTAINS.

Thank you very much. Welcome to our team! Yours Sincerely - Dan Mazur



Email: Dan@SummitClimb.com and Dan@SummitTrek.com

TELEPHONE UK: (+44) (0)7810375400 (IN CASE I AM OUT CRAGGING OR HILL WALKING, PLEASE LEAVE A MESSAGE WITH YOUR NAME, PHONE, AND EMAIL).

TELEPHONE USA: 1-360-570-0715

Skype: dan.mazur8848
Web: www.SummitClimb.com , www.SummitTrek.com .
Latest climbing news: www.SummitClimbNews.com .
Latest trekking news: www.SummitTrekNews.com .
Latest charity / non-profit news: www.MountEverestFoundation.org .
www.facebook.com/DanielLeeMazur
www.linkedin.com/in/daniellmazur
www.twitter.com/@DanielMazur

https://plus.google.com/u/0/104958564361508194591/



UK ADDRESS: 30 DOWNFIELD LODGE, DOWNFIELD ROAD, CLIFTON, BRISTOL, BS8 2TQ, ENGLAND

USA MAILING ADDRESS: POB 123, LAKEBAY, WASHINGTON, 98351, USA

Daniel Mazur Wikipedia Page: http://en.wikipedia.org/wiki/Dan_Mazur

Ps. PLEASE BE SURE TO TELL ALL OF YOUR FRIENDS ABOUT WHAT WE ARE TRYING TO DO (WE PAY YOU A CASH COMMISSION "FINDER'S FEE" FOR SENDING US NEW MEMBERS). THANK YOU !

Pps. Congratulations, you made it to the bottom !! You must have the perseverance needed to be a mountain climber, trekker, or Sherpa charity service worker !!