Volunteer Nepal charity non profit Service walks and projects spring 2013
Volunteer Nepal charity non profit Service walks and projects spring 2013
Photos in slideshow: Elselien te Hennepe, Murari Sharma, Lisa McClellan, Dan Mazur, John Vavruska, & Morris Prokop. For caption information on these photos, please visit our Service Trek photo gallery.
MEFNews.org: News of our Recent Service Walks & Projects
Spring 2013
Blog posts: Please click one of the links below to go directly to that blog post or just scroll down.
On my last day here in Nepal, I was able to meet with engineers from Biogas Support Program. The Mt Everest Biogas Project owes Murari a huge thank you for pulling together this last minute meeting. It's never easy to get busy people to spend the beginning of their Sunday morning listening to a presentation. But somehow, Murari got the Senior Advisor from SNV (the parent Netherlands NGO that made BSP) and both the Assistant & Executive Directors to come to the meeting. Marvelous!
The meeting went very well. And I noticed the engineers enjoying my AutoCAD drawings of the proposed design. After I was done presenting, the Assistant Director showed two presentations on the recent work done by BSP above 2000m. We learned about two alternative digester shapes they've been investigating. One of which has a smaller exit for the effluent; this would be great for our project.
Many good things will come from this meeting. The Assistant director and I will stay in close contact to share information and collaborate on the future design. Also the Executive director requested that the group in Seattle submit a grant to the Nepalese government for the project. It will certainly help to have this submitted by the Executive of BSP, which is functionally a government agency.
After the month of work accomplished during this visit, there is now so much more work to be done. But I am confident that the connections made during this last minute meeting will bring this biogas project forward by leaps and bounds.
back to top
Mount Everest Foundation Team meeting with BSP-Nepal (Bio Gas Support Program). From left: Murari K. Sharma (MEF), Maya Sherpa (Nepal Mountaineering Association). Arnold Coster (Mount Everest Expedition Leader), Dan Mazur (Mount Everest Expedition Leader), Bala Ram Shrestha (Excecutive Director, BSP-Nepal), Mimgma Sherpa (Namche Buffer Zone Committee.), Nathaniel Janega – Engineer with Mt Everest Biogas Project, Subodh Shrestha, Prakash Lamichhane (Assistance Director). Photo by Deha Shrestha. Nathaniel Janega – Engineer with Mt Everest Biogas Project presenting his slide show, with him Mr. Mim Hamal (SNV Senior Advisor). Photo by Deha Shrestha.
Proposed System to Heat Digester. Photo Nathaniel Janega. Proposed biogas system. Photo Nathaniel Janega. back to top
Image of proposed project site from Google earth. Photo Nathaniel Janega. Plan view of the site. Photo Nathaniel Janega.
View of Future Building from South West. Photo Mike Eliason of Architect. View of future buildings back from North East. Photo Mike Eliason of Architect.

Since my outing to find construction materials, I've been trying to make a realistic cost for the Biogas project. This is not easy, and I have had at least three different quotes for the cost of cement in Khumbu so far. It's also interesting to figure transport costs when things have to be moved with a combination of truck, donkey and human porter to arrive at Gorak Shep. The trickier part will be getting a realistic price for a BSP consultant. I don't think it will be cheap to get one of their engineers far away from their comfy home in the capitol. But we will see.
The more exciting thing I've done lately, is to see my friends from Pumori engineering firm again. I haven't seen them since we parted ways in Deboche. Since that time they have started making a great map of the Nuns' Gompa. I was impressed by the number of trees they had included. The preliminary map that we looked over does not yet have contour lines. But they are still processing the more than 900 reference points gathered in two days. I think these guys are quite good at what they do and I'm excited to see the Gompa get some renovation once this work is done.
Of course, things are not as straight forward as one might think. The meeting's discussion turned toward how the property boundary and ownership might be found. This nunnery has been around for centuries, plus there is a different style to keeping records in Nepal. In the end, it seems there may be three places where the Gompa's land may be recorded. But these record houses will not necessarily know who holds ownership as well. Add to this the slow process of applying for permits with Sagarmatha National Park, and half a year can easily pass before things can go forward. Despite all that, I think the renovation of the Gompa will happen, and the site survey done by Pumori Engineering been a huge help.
back to top
Preliminary map of Deboche Gompa. Map detail.
back to top
Looking over the new map and discussing next steps forward. Leaving Pumori. From left, Murari (Mount Everest Foundation), Nate Janega, Rajendra & Suvod (Pumori), Dan Mazur.

Since I've returned to the capital my days have been busily filled with writing and trying to squeeze in meetings. Mostly I've been incorporating information from the site survey, into a presentation for Biogas Support Program Nepal (BSP). This has been the focus of my efforts, but it is not yet clear if we will be able to meet with some of their engineers.
The office for BSP is closed on weekends and their people are booked in day-long meetings through Thursday. An American would say, "Well that's fine, just have the meeting on Friday". However, yesterday the government announced that the month long process to rebuild the rain god's chariot was completed! This means that Friday will be a national holiday. From what I understand, two days warning before the city shuts down, is better than usual. I am no longer surprised by such things here. Hopefully Murari will be able to arrange some informal meeting this weekend. We will see.
My other project has been to investigate the construction supplies available in Kathmandu. With this information I can start to develop a realistic construction budget. As Murari drove me to the area of town where such things are sold, the streets were filled with more than a foot of flowing water. A sudden downpour had made a small river of the street, that even the rain god's chariot might have troubles with. Then again the Nepali motorcycle riders seemed to feel safe with just their raincoats on.
I was pleased to find two different options of electrical water heaters for sale in Kathmandu. Now that we have some real information about this key element of our design, we can figure out how many of what size we will need. The business owner also told me that these could be fabricated to the size we desire (maximum 1m though). Once again, I've found that 15 minutes in Nepal is worth five days, trying to research in Seattle.
back to top
Today was my first full day back in the capital. I am pleased to have more meal options available and water I don't compulsively dose Iodine tablets into. Though, I already miss the beauty and quiet of the high mountains.
I am staying in the same room I was in before my trek began. Looking in the mirror there, I can see how much weight I've lost. This is unfortunate, as I was only ~165 lb before I left. I have the chance to give myself a rest now, but some things just aren't the same yet. My body had decided I am a vegetarian, which is an interesting. And I can never seem to feel hydrated. All in all, I think my health is good and my spirits are very high.
I spent my day completing the presentation I will give to our affiliate NGOs here in Kathmandu. I spent a lot of time with this before I left the states, but now I have more information and loads of helpful pictures to add. As soon as Mingma returns from the Khumbu valley there will be a lot of work to do. I still need to visit all the local suppliers of construction materials for our project. And there are so many people to talk to about the progress of the design.
My time here gets ever shorter. I am excited to get back to the left coast, but there are quite a few tasks to complete before I fly. back to top
I got up today in Lukla, thinking that I would see the return of Mingma and attempt to leave with him tomorrow. Instead, as I began to ask for lunch, Murari called me from Kathmandu to say that I should have been in the airport 15 minutes ago.
I hectically through all my gear into bags and did my best impression of a manic porter. I got over to the domestic departures area in Lukla airport where the owner of the Tea-House I've been at, Kami, told me to wait. I did that for three hours, never being given a ticket or being told anything more than, "Wait…". Most folks I spoke with, in the limbo of Lukla airport, had been awaiting thier flight for 11+ hrs that day. So really, I got off easy. When the weather is good in Lukla, the place is a madhouse with a few hundred people trying to leave on half a dozen flights.
In the end though, I did get on a plane and we even returned safely to the capitol. In Kathmandu, Deha explained to me that they had to pull favors to have a seat opened for me. I don't know what that entails, but I owe Deha and Murari from Summit trek big thanks. Not to mention their friends and benefactors in Lukla. Back in the city, Dan and Murari explained to me, that I might have been stuck in a cloud up in Lukla until after my flight to Seattle had left. The weather in the Khumbu has no obligations to humans and if you can fly out of lukla, you'd best do it.
I returned to a muggier Kathmandu than I had left and was so pleased to see my cheap hotel room again. They give you toilet paper and soap for free here. This is crazy! Far too nice for the likes of me… I enjoyed a shave and a shower, squatting beneath a faucet 1m up the bathroom wall. I hadn't washed my hair in 24 days and I looked like the Wildman I'd become.
Once I looked and smelled presentable, Dan, Murari & Deha invited me out to dinner. I got to meet the successful climbers who had just returned from climbing to the top of the world; lovely company and good food. I feel very lucky to be safely back in Kathmandu to finish my work. back to top
I woke this morning to the sound of heavy rain on the roof. Now in the afternoon, since the clouds have somewhat broken, a few heli will be able to fly back to Kathmandu. I got a text from Mingma saying that tickets are being arranged, so all I have to do is enjoy my time here in Lukla.
Once I'd eaten my porridge and milk-tea, I gathered some things and set off to find the village of Muse. The map Murari gave me back in the Kathmandu office had some vague trails shown in dotted lines to this place. I made my way and got conflicting directions from a young boy once I had left the main road. I relied on my intuition and eventually found some houses on the hillside.
I put it to the luck of the Irish that the first house I came to had a fluent English speaker. He told me that I had indeed wandered my way into Muse. I explained my reason for coming to his village, and gave him the jist of the biogas project at Gorak Shep. He was pleased to hear of the work our team is doing and offered to introduce me to his neighbor with the biogas digester. After the mandatory cup of milk-tea, we walked down to a house where no one spoke English. There is no way I would have figured out where this digester was without my new guides help.
My benefactor Nga Gyal Jen, introduced me and we were invited into a splendid house by Kaji Sherpa, the youngest son of the family. I stood by while my hosts spoke together in Sherpa, then Kaji put a burner on top of the wood fired stove and showed me the blue flame of biogas.
We walked through the lush garden in the backyard to a stone shed. The digester's house was 4.7m by 4.2m on the outside. Inside, the small room was warmer then the house we had just left. I was impressed that a roof made of blue tarp supported by chicken wire was holding so much heat on an overcast day like this. I saw the mixing station, built to the BSP specs that I've looked at so many times. There was also a temperature gauge at the start of the gas hose. It was reading ~0°C, but who knows how this thing was calibrated (if ever) and I am skeptical it was still working more than 12 years after being installed.
We went outside and met one of the older brothers. Puchetar Sherpa helped me pull the tape measure across the pit for the digester's outflow. Then Nga Gyal Jen explained that they use pine needles to compost the effluent before use in the garden. I have seen this method done throughout the Khumbu with straight up human night-soil. So this technique is above health code standards for the region. Their garden was gorgeous, a testament to biogas effluent fertilizer. I know many a hippie in the states who would lust after the farm these folks have set up.
We went back inside where I was introduced to the patriarch, a man of 91 years. I was never given his name, he was just the father. We sat and had Sherpa tea. Melted butter, diluted with warm milk, cut with more than a hint of salt. After half my cup I decided I could handle it, which was good because they immediately refilled my mug. As we sat in the kitchen I learned that BSP had built the digester in 2006, it has been in operation since, without incident.
The success of this digester at Muse is no guarantee that one at Gorak Shep will function. In this village, around 2500m up, the weather is much more clement and there is plenty of cattle and garden waste to feed the digester. I was most interested in the construction techniques used and the social dynamic that caused this project to excel. The digester is owned by one, large and clearly cohesive family. They have their own cattle and all the feed stock that might be wanted. This is a far cry from the scenario we have seen at Gorak Shep. But the people there are united by their desire to solve the massive waste issue they face and their love of the mountains. I think that with thoughtful planning and group involvement, our biogas project will see the same longevity I've observed in Muse. back to top
A cow in a garden shed, next to robust cabbages. A three generation Sherpa household
Here it is from above. Lukla airport is definitely closed.

Just remember, turn left at the Mani Stone... Pine needle compost pile.
Pipe, chicken-wire and tarp roof. The digester shed.
The gas line out.
The mixing station. The notch at the base is where the digested liquid exits.
Good weather at 8AM on the Lukla Heli Pad. Maybe I will get to be on one of these planes...

Today I left Namche Bazar. Mingma stayed behind to deal with a family matter, but should be in Lukla Sunday, the day after tomorrow. Pasang and I made great time, and got all the way back to the airport town of Lukla before dinner. My knees and ankles are asking me questions I don't want to answer, but it seems I will have some time to relax here.
The main thing I noticed during the afternoon's hike, was how much more dangerous all the waters had become. Every bridge we crossed exposed us to the tremendous noise of the river being pulled between boulders as it raced itself to fall lower. I noticed waterfalls that I hadn't seen on the walk up. And every cascade & tributary I had seen before, had become a swollen rapid. But the walk down today was safe, and we were only followed by intermittent drizzle rather than constant downpour.
Once we got to the Tea-House I'll be staying at, we found Dan Mazur. Today was his second day trying to fly back to Kathmandu. The flying business here seems more like a game of chance than a service you can book. The hot topics around the dining room were leads on what passenger flights won't turn into cargo shipments, the latest weather forecasts and if anyone knows someone whose brother flies helicopters up here. Tomorrow I will try to contact Mingma again and get some sort of ticket situation figured out. After that, I will walk to the town of Muse and ask random strangers to show me where the working biogas digester is. We'll see how well that goes…
My time in Nepal is beginning to dwindle and I am sad to lose my friend and traveling companion Pasang. He wants to get back to the upper Khumbu, but he promised to say good bye before he leaves tomorrow. I have met a lot of good people here. Hopefully I will come and visit them again, next time to start building at Gorak Shep. back to top
Yesterday evening, I went to bed while rain softly fell. When its intense rhythm on the metal roofing woke me in the middle of the night, I knew the airport in Lukla would be closed today. What a perfect bottle neck for the 100 or so marathon runners trying to fly back to Kathmandu. As I slept in until 8AM, I heard the intensity of the rainfall increase two more times. When I found Mingma, chatting in the kitchen as usual, he said that we would take the day to rest and make our way down tomorrow.
The work for the day was quickly done after our visit with Sagarmatha Pollution Control Committee. The regional office is located here in Namche and we just walked in, waiting a few minutes while the director finished a couple tasks. I sat by while Mingma spoke in Nepali, but after a point he asked me to explain the basic technical design. I used a couple images, taken from the AutoCAD drawing I'd made back home, and tried to use my simplest English. I am not confident I fully conveyed the concept though, and I need to earnestly pursue Nepali language before I return here again.
Despite my language barrier, the director was pleased to see the progress that our team has made. I reemphasized the importance of having a local Khumbu organization like SPCC take the reins, once the digester is in operation. These folks already manage the scheduling and payment of the blue barrel porters, as well as the contractual obligation of expeditions to remove their waste from the mountain. They are the perfect group to oversee the biogas committee Mingma will help organize at Gorak Shep. They are also in a position to more gracefully navigate the paperwork involved with building inside a national park that is a world heritage site.
As the meeting concluded, the director expressed his faith and confidence in this waste solution becoming a reality and the goodwill of SPCC to help maintain the organization of its operation. He informed me that Mingma & I will present the design and the progress of this trip to SPCC's president, once we have returned to Kathmandu. I am very pleased with how things have gone. Hopefully the meeting with the president will result in our signing a letter of intent.
But before all that goes down, we need to get ourselves out of these monsoon soaked mountains. Judging by the way things are moving now, I highly doubt this will involve flying machines. back to top
I am amazed by how quickly one can descend from such high places. I am already back in Namche Bazar, even after taking a detour uphill to Khumjung. The drop down into the river valley, that I enjoyed the day we left Namche, was today a protracted climb. But I was impressed by the strong steady pace I was able to maintain at this lower elevation. Even if I am in a relative state of fitness, I have no illusions of greatness.
Seven AM today marked the start of the Base Camp to Namche marathon. So I was passed by hyperventilating people in spandex for most of the hike down from Pangboche. The first runner we saw was the incumbent winner of the last three years. At 17 minutes to 10AM he sprinted past us in Deboche, taking one breathe for every three strides. I could hear his deep steady breaths and counted his strides. That man is a different kind of athlete. It was 45 minutes before another runner (Nepali) was on his trail. I don't know what the deal is, because when I eat dahl bot daily, my innards liquefy. No super-human ability there.
Anyway, my path today took me through Khumjung, so that Mingma could show me a biogas digester that had never panned out. This digester was built by Biogas Support Program Nepal. This is the Nepali branch of an international NGO that builds subsidized digesters in developing countries. They have done a lot of good work, especially in the warmer lowlands of Nepal, where folks raise cattle. The digester at Kumjung was sort of an experiment for them; their first chance to bring the technology to the higher, colder areas.
I didn't get to see the actual digester, as the hotel it was built behind is now closed, during the summer lull of the tourist season. What I did see was a large stone building with locked doors surrounded by cow fields. The digester's house was about 15m long by 4 or 5m wide. Mingma pointed out a contiguous room for storing the animal waste. This chamber also served for the digester's mixing & feeding station. The larger part of the building encased the digester itself. I even spied what seemed to be the gas line out of the structure.
As we continued on our way, I questioned Mingma about what had happened there. The story, as he understood it, was based around the Hotel requesting the digester to supply their kitchen with biogas. BSP is need blind, and as mentioned earlier, they wanted to test their digesters at higher elevations. The digester was built, on private property, but the proposed substrate for it was intended to be the animal waste collected from the adjacent farms. The less affluent neighbors didn't really see a benefit to doing extra work to help a prosperous hotel reduce their operating cost.
The farmers had nothing to gain and the hotel owners didn't have much to lose. In the end BSP lost the chance to have a pilot biogas plant at 3780m and the hotel has a big useless structure behind their kitchen. For me, the locked doors of the digester held the same symbolic meaning as the gate to the hotel. When humans create barriers between themselves, cooperation breaks down. This is an old story, and has been the end of many a well intentioned endeavor.
The failure of the biogas project at Khumjung was not the result of an engineering error. It was created by an oversight of the social dynamic, central to the intended operation of the digester. From what Mingma tells me, there was never even enough organic waste in the digester to start an active culture. I'd like to think that the lesson left locked behind those doors, is one the world has already forced me to learn. But every situation is different. And the assumption that humans behave rationally has been the downfall of many a scientific undertaking.
On my way out of the Khumbu, Mingma will show me a BSP digester that has been functioning without snags at Lukla (2840m) for some years now. I think back to his careful interviews with all the community members of Gorak Shep, the waste porters, the tea-house owners and even his discussions with the trekking sherpas who guide tourists to that remote place. The people there agree that a sustainable solution to the waste problem must be found. But more importantly, they want to cooperate to make that happen. I don't think this project would be where it is now, and I'd doubt its ability to succeed, if Mingma were not working so hard to bring it forward. Not to take anything away from the years of work put in by all our project members, in America & Nepal But without a native Sherpa speaker, helping to organize a local committee to take ownership, this project might end up a frigid hole in the ground. If it ever even got that far.
I am not pessimistic about our project though. And it is good to be reminded, that the delicate web of human interaction requires careful attention. The Mt. Everest Biogas Project is not a club of technocrats, blindly investigating a story problem. We are a diverse group, listening to the needs and concerns of the Nepali people; sharing our skills and a common goal. Through direct involvement and organization of the local community, we hope to benefit the mountain and the people who call her home. back to top
In the morning of my last day at Gorak Shep, we asked about, and confirmed that our prospective site never has surfacewater flow. We chatted with the owner of the guttered tea house. They said they added the system a year ago, with no failures and have harvested 2,000L during the monsoon. I don't know how this was measured, but it's the number we were given. The last order of business was measuring the distance from our site to the porters' kitchen window and the lengths of the structure's roof.
Just as I had given up on having a view of Sagarmatha from Gorak Shep, Mingma pointed her out to me before we started the hike down. I have no desire to risk putting my body on top of that place, I need it for some other things yet.
Anyway, on the hike down we found the current waste pit. It is quite wider than the older ones I've seen and located a few hundred meters from the terminus of a glacier. It was clear to see from the swath of cobble proceeding towards the Khumbu glacier below, that any leach from this pit will trickle down the basin and mingle with the valley's waters. Once this pit is full, they will probably just make another here until in a decade or so they have to find another spot further down. Climbing on Mt. Everest isn't about to stop anytime soon, and shallow burial is not a sufficient solution to the human waste problem here.
Of course I had to get next to the pit and take a few glamour shots, up close and personal. And when I did, I got stoked! There were multiple places where kitchen waste had clearly been thrown into the poop pit. This does make sense. If you didn't have enough yaks to feed, and such stuff won't burn well or compost at this temp & altitude; your best option is to put it somewhere you won't have to smell it (much). Out of sight, out of mind.
The reason I got stoked was this clearly shows kitchen waste is available for our biogas digester. Coedigestion of human waste with food scrap improves biogas yield a good deal. Additionally, this means our project can help alleviate two solid waste issues faced at Gorak Shep. There is a lot of work to be done on the design-side, as well as the community organization side. But by forming a local biogas committee, coedigesting organic waste at Gorak Shep will be possible. This site survey has shed light on the severity of the waste problem here and the escalating risk to the glacial waters of the sacred Himalayan mountains. But this issue can be surmounted, and we are on track to do so.
I am writing this now in Pangboche, more than 1000m below where I woke this morning. Mingma set a pace I was not about to fall short of, and we got here in about 5.5 hrs, even with stopping for two lunches. The same distance took me three days of walking last week, wow. Now on my descent through the Khumbu, I know this project is desired and supported by the locals, feasible despite the harsh conditions and completely necessary to mitigate the damage that has already been inflicted upon this magic place. The work of this trip is not over and I look forward to meeting with Sagarmatha Pollution Control Committee soon. back to top
Chicken bones don't help digesters, but bread crust does. In sight & in my mind, not to mention my nostrils.
Just to reemphasize, this puts fecal coliform bacteria in the glacial basin. The waste pit
Tobkay Lama, veteran blue barrel porter. To clear the flavor pallet of your mind's eye... a baby yak at play.

So I spent my first night in Gorak Shep in the very last room available, located in the basement of a tea-house, filled with dozens of folks prepping for the Base Camp to Namche marathon. I was to the left of what smelled like a gas-can storage room and beneath the communal dining hall. I heard the fools above me pushing tables about, drinking whiskey and singing songs until about 3:30AM. I wanted to go upstairs and show those kids how it's done, but I had work to do today. Lucky for them!
I also had brave aspirations to make the 2 hr hike up Kala Patar, at 5AM, and see the peaks. But the thunderstorm that kept creeping up the valley all night, had left a cloud obscuring everything from the dry lake bed on up. I slept in till 7:30 and once breakfast was done, I went outside to feel snowflakes lightly pelting my face. To see this happening when it's almost June, really drove home the severity of the heat loss problem this biogas project must overcome. The snow continued all day, but as it hit the warmish May ground, it instantly sublimed into a vapor phase. This left the whole area in a mysterious blanket of snow falling through fog. What a crazy place.
Mingma spent his day in a string of interviews with the blue barrel porters and tea-house owners. I tried not to spend too much time by the stove, drinking tea, looking out the window. I was of course contemplating various aspects of the project while doing so. But once this critical portion of my mental preparation was concluded, I went outside to scout the materials we will need for the project.
My mental list ran something like: water, Carbon rich waste, stone, solar panels and other building materials. Right now there is a line of HDPE & plastic pipe running from a lake behind Kala Patar down to the dry lake bed. The water is constantly draining into the lake bed unless someone is filling up. This is because the lines would freeze and burst the first night the water in them was left still. I also scouted literally every roof's edge in the place. One had a gutter that was clearly just to keep the low room beneath it from flooding. But I did find one building with a gutter being used to harvest water. Since we are to dilute the waste 1:3, we'll need about 36m3 of water to deal with 12,000kg of filth. One idea is to install gutters on the porters' shelter. This way we could harvest a good volume during the summer monsoon. And probably top off the difference, with the flow lost into the dry lake.
I peaked around and saw something our team already knew, the yak dung is a fuel source that no one is about to handover to the project.
Next, I spied a lot of kitchen waste abandoned in greywater and also being fed to yaks. From the looks of it, there is a fair amount of starchy stuff the marathon runners with wobbly guts didn't manage to finish. Again, since the tea-houses seem to use their kitchen waste for animals, it may be hard to ask for it. Of course the yakherds had also brought up hay with them, so it's not like we'd be starving Yaks if we digested the old spaghetti.
To the North of the tea-houses I could see signs of granite harvest going on. But for all of that, the same stones types can be found next to our digester site. There was also a stack of wooden beams and so many foam boards beneath some tarps. These seem to be awaiting the day they become a new tea-house addition. We are not about to try and haggle for these construction supplies. But it was interesting to see what materials are available and chosen for use up here.
There were a lot of solar arrays around the place, but they were put in by companies not present to be questioned. And just so you know, don't try to ask a tea-house owner for any sort of DC power harvested record. This is not the sort of thing they waste their time writing down. I also tried to get some meta-data, in the form of, number of batteries charged etc. But they don't store these hard records once their guest notebooks get filled, I'm guessing that lights the stove at night. However, I did learn that in addition to Gham Power, a Kathmandu company we have been courting, they also have panels from Lotus power up here. Now I have another Nepali solar company to visit when I'm back in the capital.
I saw Mingma at dinner and he read me his notes from interviewing ¬¬¬ Tobkay Lama. This man has worked as a waste porter for 18 yrs, one of the original two. There are now 23 blue barrel porters and they have to go farther down to reach the current pit. He also said the pits are further off trail now, since yaks had been tripping in the unconsolidated pits covered by a shallow cap of soil.
Tobkay used to be paid 20 rupees per kilo in the beginning, but now his compensation is 150 rupees a kilo. That's around $2 US, not a great deal. Mingma asked him what he thought of our project and his thoughts on being the eventual operator. He was for it on both accounts. I hope we get this thing up and running in the next few years. These people never complain, and deserve better than what is going on right now.
When Mingma and I return to Kathmandu, we will create a full document of his interviews with the blue barrel porters. This will be placed on the web to help the international community see the human face of the chronic waste issue at Mt. Everest. Thanks for your support everyone. back to top
A local fetching water. Debattage from masonry block manufacture.
It would have been unsafe for me to follow this line any farther while alone. Kitchen greywater drainpipe with spaghetti remnants.
Nepali yak dung starfish. Rain harvesting gutter.
Small gutter to divert rain. These yaks are happily eating hay they carried up on thier own backs.
This is not up for grabs. This kitchen scrap will be a yak's dinner.
Today we finally reached Gorak Shep! I ate a lunch of hashbrowns with cheese and an egg in under two minutes. Anyway, sitting at 5,140m drinking tea with my guides in the sunshine, I was all smiles.
Once we had our things settled, we set out to view the two digester sites Mingma had previously considered. The first was to the North East of Gorak Shep, at the end of the dry lake bed. This spot is a good choice because it is off the beaten path, has good solar exposure and is near a shelter used by waste porters. However, since the wind blows from the South along the lake bed, any solar panels there would get dusty. When dust accumulates on PV panels their efficiency decreases, since the dust film reflects the sunlight before it can enter the cells. Also this site is to the South of the mighty hill Kala Patar. This scenic hill, that trekkers climb to photograph the surrounding mountains, would block the sun some of the time. Plus one never knows when a randomly bumped rock, will find a chaotic path down to your solar array.
On our way to seeing the second site, we stopped to chat with two porters carrying down the human waste from base camp. It seems that now, the pit that receives the waste is another two hours walk below Gorak Shep. The waste issue here will only get worse, along with the ground water quality in these habitations and along the glaciers.
We walked up to the main porters' shelter, and Mingma showed me the second site he had scouted. The solar potential there is great, away from the shadow of Kala Patar and upwind of the dry lake. It is also close to the porters' kitchen, which would allow us to directly tie the gas-line from the digester into their stove. Best of all, the site is a wash that never has streamflow through it. It is filled with some boulders, in dry sand! Sand is very stable to build upon, once it has been consolidated. But more importantly, the voids between the sand grains create small air spaces that hold heat. Such air voids are the same reason that fiberglass rolls or straw-bales make for good insulation. This is great news and I actually did a little squiggle dance of joy. So far, the technical design team has been using the heat capacity and conduction coefficients of wet soil in our calculations. This was a conservative estimate, but now that this survey has found our actual site location, we are sitting pretty on dry sand! Great news.
I have only been working on this design for about two years, but the Mt. Everest Biogas Project has been in process for more than three now. Our technical design team has already investigated the feasibility of biogas production at Gorak Shep. This entails operation at lower than normal temperatures, when only human waste is the substrate. Humans shed a lot of broken down protein, so our waste tends to have a higher amount of Nitrogen relative to Carbon. Methane is Carbon based, so you can make a lot more of it, from say, a grass eating animal's manure. Then again, since Gorak Shep receives ~12,000 kg of human filth annually, we are going to use that. Anyway, the numbers we came up with showed you need at least ~20°C inside the digester to make methane and get through all the waste. If you can pull off keeping the digester at 30°C, then all the waste still gets destroyed, and you get a little more biogas.
The next thing we had to figure out was, how hard it is to keep a digester warm in basically 0°C ground. This is not an easy task and we investigated different possibilities of how to operate the digester. The conclusion was that, for the amount of heat loss you need to overcome, the best deal is to operate only in the warm bit of the year with the goal of 30°C. Heat loss in the winter makes year-round operation a losing proposition. Also, the smallish increase in heat loss at 30°C compared to 20°C is worth it to make more biogas. Using the goal of 30°C also means our process will be stable. Even if the digester's internal temp dips to 20°C, we know we can still process all the waste and make biogas.
With all the givens for this problem penciled out, we could finally address the crux of the issue. What exactly is the solution that can maintain a 30°C digester at Gorak Shep, from spring into fall? If anyone is still reading, I will spare you the alternatives analysis... The technical design team has devised a system that shows such an extreme project is possible. This design, which I am in Nepal to present to our affiliate NGOs, is a feasibility design. It is not the final edit! And it will continue to mutate & evolve, based on the data and available materials discovered in this trip.
I hope that was enough caveats for any engineers reading this… Anyway, the essence of this design is to give the digester a burly coating of insulation (R-50) and then put a shed on top of it. The stabilized waste will be a liquid that can be poured into a septic tank style drain field. The shed will have a window to collect solar heat passively, and this will be shuttered at night to retain the warmth. This room will also keep the stored water & waste from becoming frozen, before it is mixed and fed to the digester. We first looked at a passive solar solution to this problem, and that will definitely not work. So additionally, we will insulate the water storage tank and put a DC electric heater in it. This means, we need solar panels to make the system work. But fortunately, Gorak Shep is no stranger to PV panels, which is how I come to be e-mailing this off to the readers at home. The heated water insures we won't shock the digester by feeding it cold slurry. But more critically, we can keep the digester warm by pumping the hot water through a pipe network placed inside the digester's floor. This sort of design is done in the floors of Hippie mansions and bears the name, radiant heating.
If the radiant heating system's pump is controlled by a thermostat, we will only heat the digester when necessary. It would be a shame to cook all those happy little gas producing bacteria. What really makes this design concept robust though, is that whenever the sun is shining, we will store energy as heat inside a reservoir of water.
Water is great for this task and non-toxic! By storing heat, we can dampen the effect of sunless days. When the sun is out, the ground is warmer and the digester won't be so troubled by heat loss. But at night or during a string of cloudy days, a system that used direct electrical heating would be useless.
So there you have it. The basic concept we will use to solve the massive human waste problem at the shoulder of the highest mountain in the world. For all you engineers out there, please trust I have left this description to a minimum. We have considered antibiotic toxicity, rate of waste delivery from base camp and all the other things you would have been cutting me off to interject if this had been a conversation. Much love, and best wishes.
back to top


Alternate Detail of Radiant Heating System for Digester
Detail of Radiant Heating System for Biogas Digester
Blue barrel porters . Entering Gorak Shep (that is Kala Patar with the trails on it)
I'm in Gorak Shep! Lunch!
Mingma & Pasang at the site. One of the old pits that is now filled in.
Plan View of Full System .Porters' shelter from the site.
Porters shelter with blue barrels of waste. Sand!
The main porters' shelter, with the red roofs of Gorak Shep in the back. Our site is just to the left. They have another 2 hrs of walking ahead of them.
West Side of Full System
Today has been a wonderful day. I have finally reached Luboche, at 4910m above sea level. My breakfast of porridge was uneventful and we completed our trek in under 4 hours, even with a 45min break for lunch!
The walk from DIngboche to the river crossing at Dughla was the most beautiful walk I have had while in Nepal. The forested basin of the Dudh Koshi was lovely. But the high mountains have been my favorite place since I was a child in Washington. Walking through this house of the mountains; seeing all the peaks, glaciers and frozen waterfalls, my heart was lifted and I felt at home. Also, the ford at Dughla definitely wins my, "sketchiest bridge yet" award. It started with a stout, welded-steel bridge. Then transitioned to gabions, with their frayed metal threatening to snag shoelaces, and finished with pieces of boards, nailed in no particular fashion, to three beams.
Despite appearances though, this bridge has been putting in work for a long time. And I would not have tried to ford that icy torrent without it.
Lunch was followed by a steep climb and a mellow plateau into Luboche. We took enough time to drop things off and headed to the Italian research pyramid, EVK2. This is the site where raw data on climate, glacial movement/shrinking, particulate ppm, [CO2]etc are measured and sent to Italy via satellite. Mingma had previously been a lead technician there for 7 years and was able to get me a tour. I asked them a number of questions about their solar arrays, batteries, windows and solar water heaters that use glass vacuum tubes.
Amazingly, the entire multistory complex has been built from pieces brought to the location on the backs of porters! The more time I spend around the Sherpas, the more I realize they are superhuman. I think this is mostly due to training and mild hearts that never utter complaint.
The Nepali technicians were most hospitable, feeding us many rounds of hot chocolate and then giant bowls of cheese tortellini soup, delicious. They were also very interested in the biogas project and didn't mind answering all my questions. I learned more by talking with my guide for ten minutes then I have in months of research in the states. The most helpful, was hearing about the issues they have had with equipment failing, apparently vacuum tubes don't deal well with seasonal temperature cycling up here. If I remember correctly, there is some sort of saying about this, "people in glass houses, need exceptionally robust hot water infrastructure', or something like that… back to top
EVK2 looks like the mothership has landed. I am so happy to be up here.
The village Pheriche is hiding in valley at the center of this picture. Sketchier

I woke this morning at 7:28AM, just before my guide Pasang knocked on my window at 7:30. I told him I felt great. I went into the tea house to have breakfast.

We too things easy today and I met a tea house friend from Minnesota. All in all, I am enjoying my time in this picturesque village and think I will be excited for the trek tomorrow.
back to top
This morning the light of dawn woke me up and I went outside to see the mountains unhidden by clouds. I took some quick photos and by the time I had, the peaks up the valley could not be seen in the intense sunshine breaking above their ridges. Thirty seconds of difference and I would not have seen the sun rising behind the mountains. I basked in the morning heat for a moment and crawled back into bed.
By the time I started my day, the clouds were already coming in. I ate porridge and tea and went off to Sherpa Internet DIngboche to finally send off all the dispatches I've been writing and not sending. Solar powered internet, cleverly wired together with car batteries at 4410m is not very fast, so this took a little while.
I had spaghetti for lunch and went for a walk up the hill to get some exercise on my off day. The clouds would obscure the Tea House I'm staying at one moment and fly up the valley the next. As soon as a rain drop fell on me, I started to walk down. By the time I was back in my room I could hear rain on the roof. Thank goodness for shelter, I am in an extreme place right now.
I hope to use the rest of this leisure day to finish up my school work. I still need to send a rough draft of my design write up to my advisor. He is probably wondering if that is even still on my agenda these days. It is and I am close to done (if Dr. Korshin is reading this…).
All things considered I am in reasonable shape and good spirits. Tomorrow I trek to Luboche and the next, Gorak Shep. back to top
Chorten on the hillside. Dawn at Dingboche
Down the valley from Dingboche. Here is the rest of Dingboche revealed

I ate two bowls of oatmeal for breakfast and Mingma led the way to Dingboche at 10AM. It was a very relaxed start to the day. I was able to see the peak of Chomolungma peaking through the clouds just before we left, but the conditions became cloudy as we continued to walk up the basin of the Dudh Koshi. When we stopped for lunch I talked with the other trekkers. They were all here for a marathon run that proceeds from Everest base camp, at 5364m, down to Namche Bazar, at 3440m. No thank you! Mingma pointed out to me a local who has won this race the last three years in a row. His last time, the best time ever, was 2 hrs & 27 minutes. This man is in his mid thirties and is super-human in my belief. Mad respect.
Anyway, we took our sweet time in getting up to Dingboche, at 4410m and arrived before 2PM in mist. The plan is, that we will stay here another day to acclimatize before we head to Lobuche and then Gorak Shep. Three days until Gorak Shep. Things are becoming real. I will spend probably 3 days there, or more if there is additional information to gather. During those days I will most likely proceed up to Everest base camp, but won't be running back down.
I am very excited to help bring the Mt. Everest Biogas Project forward. The most important thing, which will decide wether or not this actually happens, is the choice of the local porters who stand to operate and benefit from the project. They have already agreed to receiving free biogas, but this was before there was any sort of concept as to how such a thing would happen. I am to present to them our team's design, with the help of Mingma as interpreter. If they are willing to feed the digester, dump a bucket of digested effluent and open & close a window shutter daily, then the project can move forward. The initial design will change a great deal based on the information collected during this trip, but I am hopeful that in the next couple years we can make biogas at Gorak Shep. back to top
Above 4000m, no more trees Everest from Pangboche (above the blue roof)
Solar powered tea pot. The Chorten at Dingboche

I got myself together by around 8AM and found the team already at work back at the Gompa. I returned to sketching the main building of the monastery ate some pancakes. Mingma was there and he and I discussed the schedule of the next few days while the others kept working before their breakfast.
The survey team was behind their own schedule, but they were tasked with recording the location of all trees, boulders, walls, foot bridges and most other things. They were doing a fine job at this, but hoped to be done in time to return to Namche for dinner. I finished the East face of the Gompa in my sketches and went to go take lunch with the others who had finished their work.
By 12:30 my companions were back on the trail to Namche. I completed my sketches and returned to the tea house. back to top

Attempt to Photograph the South Face. Gateway to Pangboche
Looking at the North and East Faces of the main hall. North Face of Gompa, Manel Hang (Room with a giant Prayer Wheel)
Opening a line of sight to the reflecting prism. Pangboche
Plan View of Gompa. Recording a foot bridge.
Recording a prayer boulder. Sketch of West Face of Gompa.
Sketch of East Face of Gompa. Sketch of North Face of Gompa

Sketch of South Face of Gomp. So many laligurasn to record
Flower. Can you tell us this flower name. Photo Murari Sharma. Recording & Surveying by team. Photo Murari Sharma
Article of Deboche Nunnery. Photo Murari Sharma. Flower. Can you tell us this flower name. Photo Murari Sharma.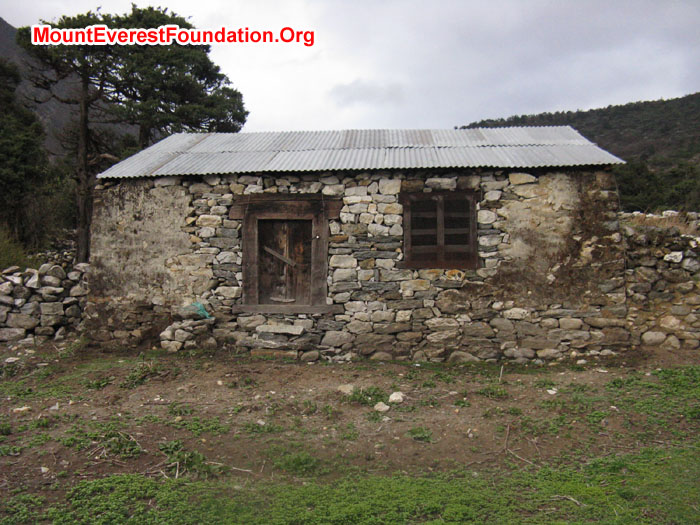 This building is in use and needs some work. Photo Murari Sharma. Recording & Surveying by team. Photo Murari Sharma
Team roster at Deboche Nunnery after project recoding and Surveying finish. Photo Murari Sharma. Team roster at Deboche Nunnery after project recoding and Surveying finish. Photo Murari Sharma

View from the South-East. West Face of Gompa.
I woke early with the rest of the team where we took tea and walked about 50 meters down the Khumbu trail to the Nun's Monastary. We chiseled in Bench Mark 1 for our traverse and walked though the grounds painting in the other Bench Marks and Turing Points for the Survey. By around 7:30AM we returned to the Tea House for breakfast.
The group's engineer Rajendra told me I could help by making a sketch of the Monastery's main hall, including the inset of the windows or protrusions of the eves etc. I like to draw and it was great to be of benefit to the survey of the Gompa.
The nuns I met were interested in my sketching. I had a limited conversation with one who spoke Tibetan while I tried to see how far 5 words in Nepali and the phrase, America-USA, could get me. Lovely people, I hope that this survey is the start of restoring their historic monastery. back to top
This building is in use and needs some work. At the nun's Gonpa

The oldest Nun's Monastery in Nepal. The main building
The Kitchen. Surveying in the afternoon mist
The chorten in the NorthWest of the grounds. Surveying in the afternoon mist.
Bench Mark. At work before breakfast.
A greenhouse at the monaster. Green house at Deboche Nunnery. Photo Murari Sharma
Our local guide Mingma Sherpa convinced the group it was better to leave at 6:30AM, after breakfast, rather than 5AM after just a cup of tea. I was okay with this plan, and enjoyed some tea and noodle soup before we left. The early morning was glorious and we caught views of Kongde Mountain across the gorge from Namche. As we continued up the Khumbu valley, the mountains were in full splendor, and I learned that the peak I reported earlier as Mt. Everest was actually Thamserku. I'm guessing this is not the last time I will display some measure of foolishness.
Any way, we came to a Chorten (or Stupa) where the bright cloudless morning allowed visibility far up the Kumbu valley. Half a dozen peaks (the names of which I don't wish to butcher) were arrayed before us, and tucked away between the furthest, was Chomolungma. She did not seem to be the tallest from our point of view, but it was striking to think that I was observing the top of the planet's surface. Most likely several teams were able to summit this morning. I hope our intrepid Dan Mazur's group was amoung them.
The further in we hiked the more prevalent the rhododendrons became. These trees, in Nepali the Laligurasn, are the National flower of Nepal. And my teammate, the astrologer Sumeet, sang to me a song of the Laligurasn, who's, "heart is the jungle". Things of this nature work for me, and I like this character even more now.
We descended a few hundred meters to a tributary of the Dudh Kosi and crossed another suspension bridge, which the path wanders underneath. After keeping pace with a merchant couple herding yaks up hill I got to see a hillside that was half laligurasn. At this point the clouds were coming up the valley and we hastened to Tengboche.
We rested just long enough in Tengboche for a cup of tea and took a short 20 minute walk down hill to Deboche. This valley seems like a fairy realm, especially in the thickening mist of the afternoon. When we got to the Paradise Lodge & Restaurant, Mingma was miraculously ahead of us, already waiting there. He knows just about everyone in the mountains and gets to hitchhike in helicopters. Not a bad trick.
The new height we have stopped at is only 3710m, but we walked in a good 20 kilometers with a substantial drop and climb in the river valley. I am wiped out. Tomorrow we go to the Oldest Nun Monastery in Nepal to begin a site survey before breakfast. This is the purpose of my Pumori Engineering teammates travel, and I get to tag along and help. I am interested to see the monastery and explore more of this enchanting valley.
back to top

The one peaking out of the middle on the left is Everest, for real. The Team Leaving Namche
Mountain from Namche. Mountains in the Morning Sun

Laligurasn. On the bridge
Chorten. Kumbu covered in Laligurasn

In Deboche's valley.
A new place to rest. Above Namche Bazar
Approaching Deboche. Beneath the bridge
I woke this morning because the sun had been up for a while. I came to realize it was just after 6AM, but my team was up and drinking coffee. I opened my window curtains and freaked out. I was looking at Chomolungma, mother goddess of the world, looming above all the other mountains in her court. I hastily took some bad photos through the window's glare and threw on enough clothing to make myself decent enough to take photos in the street.
Once breakfast and tea were taken care of, the team left to visit the famous Namche Bazar Saturday market. Ordinary things become quite expensive, once someone has brought them up to 3440m. I didn't get anything there, but enjoyed the sites. Most striking of which was probably the massive quadriceps of unknown ungulates hanging by hooks in the meat market. I noticed the butchers were using Kukri, the famous blade of the Gurka, to carve up flesh to order.
We passed through the market and traversed the town's rim, stopping by the Buddhist monastery. Inside the colorful courtyard we saw the Chinese immortal of Longevity with his friend the stag. While the next panel over had the four harmonious friends from the Hindu fables. This sort of religious & cultural syncretism is just one part of the friendly & relaxed nature I have been met with here in Nepal. We walked further up the hill and stopped to catch our breath. I returned to the hotel to work on my school writing while the others trekked to the hill's top. By noon the clouds had obscured the mountain and I was content to work until lunch.
After yet another plate of dahl bot, Murrari took me to visit the SPCC (Sagarmatha Pollution Control Committee). It is no simple task to have an unannounced meeting on a Saturday in rural Nepal, especially when the office you seek is not really open on weekends.
But after a good bit of waiting, the office head arrived and I was introduced in Nepali. I spoke English with the director who gave me a copy of the SPCC Annual Progress Report 2011. I know now that my decision to become a wastewater engineer was not just a fad to fit in with the cool kids. The fact that I was seriously excited to be given a document of human waste in Kg, by climbing group and season, probably means I won't fit in most places outside waste management.
The day has been fruitful and a good rest. But I have much to do before we leave for Deboche at 4:45 AM. We want to travel in the morning sun to enjoy the view of the mountains before the afternoon clouds return. back to top
Team Roster for Deboche Nunnery at Namche Bazaar. Photo Murari Sharma. Cool technique of recycle of plastic bottles. Photo Murari Sharma

The Namche Monastary. Photo Nate Janega. The Other Mountains. Photo Nate Janega. back to top
Namche. Photo Nate Janega. The Bazar at Namche. Photo Nate Janega. back to top
Chomolungma. Photo Nate Janega. Longevity and the Four Harmonious Friends. Photo Nate Janega

All the Mountains in View. Photo Nate Janega. The Roof of the World. Photo Nate Janega

After a pleasant sleep with the sound of the nearby river, we had eaten breakfast and were walking up the Khumbu valley by 8AM. The day's trek started out with a relaxed pace. Small elevation gains were followed by essentially flat sections of trail, as we walked next to the Dudh Koshi. This translates to "Milk River", an apt name given the mass of glacial particulates suspended in it. Suspension bridges aflight with prayer flags brought us from one bank to another through misty pine forest.
After reaching the border of Sagarmatha National Park we stopped for lunch in Tawa (or Thog). We were hungry, but mostly this was our last chance to eat before Namche Bazar. The beauty of the place was embellished by prayers carved into boulders like tattoos, banners & strings of prayer flags, and prayer wheels painted with vibrant colors. Another meal of dahl bot (soupy lentils over rice with curry spiced chicken on the side) and we were on our way again.
The initial walk was deceptively laid back. But once we climbed the stone steps to the last bridge, it was nothing but switch-backs through dusty pine forest. After looking at a map, it seems we gained 635m between our lunch spot and Namche. Most of this was after the bridge. Oh my golly, I have never been to 3440m above sea level before, but the air is certainly thinner here. Our pace slowed down, but we made it to the Yak Hotel in Namche around 3:30, just before the clouds began to drizzle. Being from the Pacific Northwest, it would seem odd to me if I didn't get a little wet while hiking. The Hinku Himal region has not disappointed me yet, but fortunately there has not been any real rain.
We will have two sleeps and a full day here in Namche, working to acclimatize our bodies. Although I am the only non-Nepali in our team, Murrai is the only member who has ever been up this high. My, half pill of Diamox a day regime, seems to be working so I will keep it up. Diamox can prevent altitude sickness. But eating pills once you show symptoms, is like shutting the barn door once your cows are in the neighbor's garden. Nothing but paperwork, and who needs more of that?
I will spend my day in Namche tomorrow, trying not to buy awesome trinkets, writing and also visiting SPCC. The Sagarmatha Pollution Control Committee has their office here and they have all the latest data on the solid waste issue on this holy mountain. I look forward to my visit with them and exploring this scenic town that clings to the cliff side it has been cut into. back to top
Last Bridge of the Day 2. Photo Nate Janega. Namche! Photo Nate Janega

Last Bridge of the Day 1. Photo Nate Janega. Prayer in Stone. Photo Nate Janega

Green Village Guest House in the Morning. Photo Nate Janega

Dudh Koshi . Photo Nate Jenega First Bridge of the Day. Photo Nate Janega

I got up at 3AM today, started and finished packing before the van came at 6. I had an extra hour once I had everything squared away, so I spent my time writing for school. Once in the van, we went to pick up the Architects, Engineers and Surveyor from Pumori Engineering.
Our driver made sure to show me how crazy people move in early morning traffic here. I was most impressed by a three point U-turn across 4 to 6ish lanes of traffic. They don't really delineate lanes in Nepal, I think it would be too distracting from beeping horns while cutting of motor bikes.
We got to the airport a good hour before our flight and got through security just in time to see them put up a sign saying, "Lukla flights delayed due to weather". I had expected this, since thunderstorms caused me to wake around midnight. We went to a café upstairs to wait for news in a few hours. Enjoying breakfast with the essential small cups of milk tea. Hours of waiting were followed by news that weather had closed Lukla for the day.
An interesting thing I learned about travel in Nepal, is that any missed flights will be bumped to the end of the fly list for the next day, rather than getting precedence. I was confused when we stayed in the airport another couple hours after learning no planes would fly, but it seemed like a good time to keep writing for school.
Eventually Murari came back and told me we would try Heli instead. I had never flown in a helicopter before today, but it is amazingly like flying in dreams. I highly recommend it. Some more waiting happened, and soon we were aloft and cruising for Kathmandu valley's Eastern rim. Murari later told me that Lukla airport called us two minutes after takeoff. They informed the pilot that Lukla was now closed to helicopters, again due to weather. They let us come anyhow, as we were already on our way. The few pictures I took that did come out decently do no justice to how epic this was. The heli windows allow air flow, so you not only feel yourself flying, but when you go through clouds and visibility drops off, you get hit with random drops of rain. It gives one the fear in a very exhilarating way.
Anyway, that was awesome and we made it safely. I understand now it is quite lucky to arrive in Lukla the same day you intended to. My sincere thanks to Summit Trek, for manifesting such a safe and amazing experience. We spent enough time in Lukla to get hot tea and have our bags secured by porters.Then we were off to Phakding at 6:13 PM. We left around sunset and spent most of our walk in the dark, but safely made it to the Green Village Guest House. They cook a mean dhal bot here and are very nice.
I need to get myself off to sleep. The walk I had this evening summed to -200m below Lukla. Tomorrow we make that back and then some…back to top
View from Helicopter of Kathmandu City. Walking- Cloud looks like a Mountain Photo Nate Janega
Nate Janega posing himself. Photo Nate Janega. Walking down to Phakding - Not really an escort. Photo Nate Jenega

I had another early morning today, taking a walk at 5:30 AM. This time I tried some of the delicious smelling fried things, their scents do not lie.

I managed to get some writing done before breakfast at the hotel. Once at the Summit Trek office again, I got to see our friend from AWB. He and Murari were finishing up the last details for the trip that starts tomorrow. The rest of the day was quickly taken up by fetching a lost bag at the airport, rounding up the last few items for my trip and buying a considerable array of pills for a variety of ailments I hope to avoid. As someone who usually uses Miso soup, instead of Aspirin to treat headaches, this seems like a lot to put in my body. Really though, the Diamox to prevent altitude sickness is the only thing I will certainly be taking. The rest is there just in case I get unwanted guests inside my digestive track.
Once all the paper work was finished at the office, Murrari and Deha gave me a map of the Everest National Park. I love maps, and this one shows topography, glaciers, monasteries and even things like "rock wall", "pine forest" or "stone steps". With luck, the weather is good tomorrow and I fly out at 7:45 AM. Kathmandu is a marvelous city, but tomorrow I start walking up to the roof of the world, through all the wonderful things that are yet just words on a map to me. I have much to do yet and have not started packing. There will be so much more to write once I arrive in the mountains, so for now, Adieu. back to top

Team Roster for Deboche Nunnery at Domestic Airport of Kathmandu. Photo Murari Sharma. In the office with Murari, the AWB friend I met and me (Nate Janega).

By 5:30 AM I wasn't able to sleep anymore. I gathered some things for the start of the day and walked downstairs to find the restaurant was not yet open. So I left to walk about the still morning as the city began to wake up. As I walked through the streets, the residents and vendors were busy conducting their morning Puja. Flowers, burnt offerings and fresh paint made of spices were being placed on the various shrines I had seen the day before.
By around 9 in the morning, people began to open up their shops and make fried dough treats in vats of super heated oil. The smells sent me back to the hotel's restaurant, where I enjoyed an American style breakfast. Beside eggs, sausage and potatoes I got to try corn flakes served with a side of scalded milk. This was a first for me, no longer cold cereal and certainly not porridge, the blend was tasty and paired well with chai.
After breakfast I got to meet Murari from summit trek. I had first learned of him in Seattle, where he was mentioned as a leader of MEFSD (Mount Everest Foundation for Sustainable Development). We talked about the biogas project and went over the plan for my next week, while consulting a topographic map. I learned that in the initial stages of my trip to Gorak Shep, I will stop in Deboche for three days, while trekking with some Nepali engineers and architects. Their purpose in Deboche is to conduct a site survey of a Buddhist nuns' monastery. The group represents AWB (Architects Without Borders) and I put myself forward to help with the total-station work.
I later had a chance to speak with Dan Mazur, head of Summit Trek, on a Skype call from Everest base camp. We talked about my trek in, the next steps of preparation and the work to be done at Gorak Shep. A full site survey is in order, including a visit to the first base camp. I will be meeting with the residents of Gorak Shep. But most importantly, I will be hanging out with the porters who deal with the human waste, conversing through my guide and interpreter Mingma Sherpa. If the people who are to operate and maintain the biogas digester are not interested, then there is no project. No matter how sound the engineering, no matter how much money can be raised.
Once the logistics of the day had been handled, I walked about the shrines of Dubar Square and drank tea while the sun set. This city is amazing, but I am anxious to get into the mountains and get to my real work here.
back to top
Dusk at Durbar Square, the ancient and historical section of Kathmandu (Nate Janega).

Hello Mount Everest Foundation news readers! After 32 hours of plane travel I made it safely to Kathmandu.

Driving into Kathmandu from the airport, I was impressed by the bravery of the bicycle riders. They showed as much fear in the weaving auto traffic, as they did helmets and closed toe shoes. No one seemed to need street signs or turn signals to get where they were going, and shortly I was at the Hotel Kathmandu in Jyatha, Kantipath.
Above all the vibrant street life, I glimpsed a great piece of graffiti near the high school. The image highlighted my infantile command of the Nepali language and complete ignorance of the Devanagari script. Despite my language barrier, most people had good English and everyone was friendly; particularly the hotel staff. I soon met Deha from Summit Climb at the hotel's small restaurant.
We discussed the Mt. Everest Biogas Project, altitude sickness and various pharmaceuticals while I enjoyed lamb curry. After I had had a few cups of chai, Deha excused himself to get back to work and I went for a walk in the neighborhood.
The plan of the roads, the small shrines everywhere and the smell of incense mixed with raw spice kept me walking through my jet lag.
Once the sun went down, I retired to the hotel and did my best to get some work done. I have yet to get a rough draft of my 20 page paper off to my adviser in Seattle. But by 9PM in Nepal, typing up biogas digester heat losses was not my top priority.
I gave my thanks for sleeping in a clean bed, instead of nodding off onto the shoulders of Korean businessmen, and fell into weary sleep. back to top
Graffiti on Kantipath Road (Nate Janega).
Team Roster for Deboche Nunnery project.

Murari K. Sharma – Leader
Mingma Sherpa – Assistances leader
Nathaniel Janega – Bio Gas Engineer
Rajendra Pradhan – Engineer
Subodh Shrestha – Supervisor
Sumit Shrestha – astrologist
Binod Thapa – Survey